We are so excited about INTEROP this year.  Why? Not because it's April Fool's Day. Because we're continuing our long-standing tradition of bringing together the latest storage technologies. If you happen to be in Las Vegas over the next few days, make sure you stop by booth #1462 and say hello! We are showing off our latest high-performance rack mount servers, based around SanDisk solid state drives. We are also looking forward to demonstrating NexentaStor 4.0, the brand new Software Defined Storage solution from Nexenta.
Lower your TCO with Solid State Drives
The Pogo Linux Iris XF series represents a new benchmark for the Iris line of rack mount servers. These economical Intel® Xeon® powered high performance servers can now be configured with a wide range of SanDisk® Optimus SAS or Cloudspeed SATA solid state drives.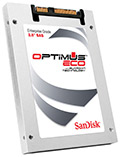 Despite their superior read/write performance compared to standard Hard Disk Drives, SSDs were once regarded as being expensive and having a short life span. Now, SSDs have evolved to become a compelling replacement for Hard Disk Drives (HDDs). With no moving parts, SSDs use less power, generate less heat, are resistant to shock and vibration, and are significantly faster for most read/write operations. For enterprise server and cloud computing environments where performance and reliability are mission-critical, SSDs are now the ideal solution.
NexentaStor 4.0 – The Imminent Release from the Leader in Software Defined Storage
With NexentaStor 4.0, enterprises can continue to liberate themselves from the traditional hardware-centric storage approach and have a fully-featured, unified solution that scales to meet growing storage requirements on any platform.

As the first "Premium Partner" in the Nexenta Partner Program, Pogo Storage has more than five years of proven expertise in engineering and supporting solutions based on the NexentaStor ZFS platform. Pogo's new line of StorageDirector storage appliances — fully certified for NexentaStor 4.0 — continues to provide significant TCO advantages over proprietary legacy storage solutions. The enterprise class Nexenta SDS platform, integrated with reliable and value driven Pogo hardware, is as much of a cost savings alternative now as it was 5 years ago.
In addition to the product demos, Pogo is partnering with SanDisk to give away some great prizes. Stop by Pogo's booth #1462 to find out how you can win!
INTEROP Las Vegas is the leading independent technology conference and expo series designed to inspire and inform the world's IT community.
From a powerhouse desktop workstation to a multi-petabyte storage system, there's a
 Pogo solution
that's perfect for your IT needs. To learn more, visit
www.pogolinux.com
or call
(888) 828-POGO (7646)
to speak with a knowledgeable sales advisor.