Maximize performance/watt and data center density with the industry's first quad-core technology.
A new milestone in multi-core processor design has been reached. Pogo Linux is proud to announce the new Intel® Quad Core Xeon™ Processor. Based on 65 nanometer transistors, these quad-core Xeons feature four complete execution cores within a single processor. This allows for greater density, while improving energy efficiency and cooling properties.
Supported by the Intel® 5000 chipset family and Fully Buffered DIMM (FBDIMM) technology, Quad-Core Intel Xeon processor 5300 series-based platforms deliver breakthrough performance with better power efficiency, delivering up to 1.5 times the performance compared to leading Dual-Core Intel® Xeon® processor 5100 series in the same power envelope.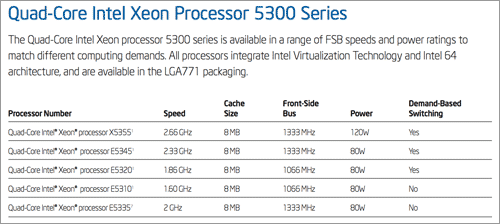 Read more about these new processors in this white paper from Intel. (pdf file)
These innovative new processors are available today today in several product configurations from Pogo Linux.
• StorageWare SA360i
Two Quad Core or Dual Core Xeons, Sixteen Hot-Swap SATA Drives for up to 12TB of storage, Optional LCD Management Console

---

• PerformanceWare 1550
Two Quad Core or Dual Core Xeons, Four Hot-Swap SCSI Drives, 1U server

---

• StorageWare SA216
Two Quad Core or Dual Core Xeons, Sixteen Hot-Swap SATA Drives for up to 9TB of storage, 2U server

---

• Velocity D50 Workstation

Two Quad Core or Dual Core Xeons
Up to four SCSI or SATA Hard Drives