A work environment, whether home, lab, or office, should be a place of calm. While Intel and AMD have been rolling out faster processors and fitting more cores in a single processor, heat and noise in the typical workstation have skyrocketed! It used to be that you had to choose between stability and quiet, but that's no longer the case. Pogo Linux invested 6 months of R&D into developing the perfect configuration of fan sizes, copper heatsinks, and air flow to create the "Pogo Linux Quiet PC Guarantee."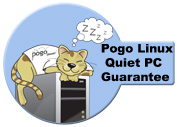 With the "Pogo Linux Quiet PC Guarantee", you are guaranteed that the system will run below 32 decibels and smoothly without vibrations. You are also guaranteed that the workstation will be stable and support heavy loads of processing without overheating.
Instead of building your own PC and experimenting with various fans, heatsinks, power supplies, etc, why not let Pogo Linux build your PC so that you can just focus on your work in peace and quiet?
We are sure that you will be happy with the quiet level and stability of our Quiet PC workstations. We offer a 30-day guarantee in case you are not happy. Now, you have the peace of mind to know that you have found a powerful yet quiet PC provider.
Below are the workstations that are part of the "Pogo Linux Quiet PC Guarantee".