OLD DONT USE Intel Xeon 2620 v2 vs. v3 CPU: Benchmarked
Posted on June 6, 2014 by rawee.k

We have had a lot to say about the impressive features of the new Intel® Xeon® platform, but at the end of the day, we all know that performance numbers speak louder than words. When a new CPU family arrives at our laboratory, we make a point of running demanding benchmark tests to get a better idea of what level of performance we can all expect from the new hardware.
Benchmarking Against the v2 Platform
The Pogo engineering team wanted to get a firsthand look at how the new v3 platform stacks up against the older v2. We decided to go with the Xeon E5-2620 CPUs. Though it may not be top-of-the-line, it has consistently been one of our best-selling processors. It lives in the coveted sweet spot at the confluence of price and performance. So, rather than perform these tests with the most expensive hardware, we've opted to test configurations that are more representative of what our customers are buying and using every day.
Benchmark System Specs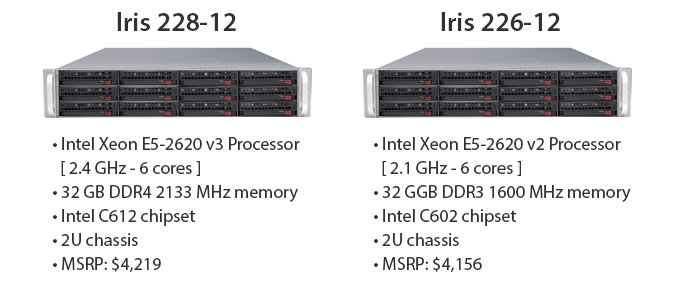 Test Synopsis and Results
For these tests, we used the industry standard Linux-Bench live CD. The results were not surprising, with the v3 platform consistently showing a 20% to 30% improvement over the v2 platform. When factoring in the comparative price of the systems, the Iris 228-12 costs approximately 5% more than the older Iris 226-12. Since a 5% greater price yields more than a 20% improvement in performance, the new Xeon 2620 V3 is clearly the performance-per-dollar winner.
For details and specific results of the individual tests, please see the infographic below:


If you have any questions about these servers, the benchmark tests, or the test results, please call us at 888-828-POGO, or email sales@pogolinux.com.