Western Digital Storage Systems
The backbone of your next-generation disaggregated software defined storage (SDS) architecture.
Fast Delivery
Maximum Customization
Expert Personal Support
Trusted Advisors
Western Digital JBOD & JBOF -

Built for Big Data
An essential building block for any large storage deployment, Western Digital has unveiled an innovative new series of enterprise storage systems. Ideal for cloud providers, large enterprises, and storage OEMs, WD JBODs offer the flexibility to specify the combination of SSD and HDD to perfectly balance capacity, performance, and cost. Maximum value is achieved, as the renowned performance and longevity of Western Digital Ultrastar drives can be fully realized in these dense, flexible, reliable, and easily serviceable storage platforms.
new

Western Digital OpenFlex Data24 NVMe-oF
2U

Storage NVMe-oF Disk Shelf
24 bays 2.5"

NVMe

Power Supply: Redundant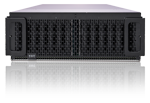 Western Digital Ultrastar Data 102
4U

Storage Disk Shelf
102 bays 3.5"

SAS

Power Supply: Redundant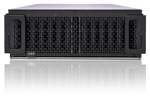 Western Digital Ultrastar Data 60
4U

Storage Disk Shelf
60 bays 3.5"

SAS

Power Supply: Redundant
WD JBOD
for Extreme Density
These systems pack an incredible amount of storage into just four rack units. The Ultrastar Data102 delivers up to a whopping 1.4 PB of raw capacity, while the Ultrastar Data60 offers up to 840 TB of raw capacity. HelioSeal® helium filled WD server HDDs protect your investment with the coolest, quietest, most reliable operation.

The platform is configurable for a wide variety of workloads. If maximum data availability is paramount, dual-port SAS will ensure maximum performance. If budget is more of a factor, single-port SATA balances performance with cost.

For the most demanding environments, a high-performance data acceleration tier can be set up by putting SSDs in up to 24 drive slots. This allows for fine tuning of performance vs. capacity, combining fast data and big data in a single Western Digital JBOD.
Western Digital JBOF

Scalable Fast Data
The enterprise class Western Digital OpenFlex Data24 NVMe-oF Storage Platform is designed without compromise, taking on the most challenging enterprise storage projects requiring near-instantaneous data deliverability. This all-flash platform ensures high IOPS and low latency with capacities up to 368 TB from 24 2.5" NVMe SSDs. Scalability is prioritized, allowing for initial configurations with as few as 12 flash modules. SSDs can be added as needed at the front panel without even pulling the chassis from the rack.
New Western Digital
Hard Drive Storage

Technologies Maximize Reliability
WD has implemented creative solutions to common issues that can arise in densely packed disk shelves. Drive longevity and performance can be compromised by induced vibration from adjacent hard drives. Extreme temperatures arising from the lack of airflow in densely packed hard drive arrays can also create challenges.
IsoVibe Vibration Isolation Technology

provides a suspension mechanism for each drive in the chassis, which isolated them from transmitted vibration. Even under intense workloads, consistent performance is maintained.

ArcticFlow Thermal Zone Cooling Technology

channels cool air into the center of the chassis. This allows for consistently effective cooling across all of the drives, at lower fan speeds. This results in reduced vibration, quieter operation, and lower power consumption, thus guaranteeing increased reliability.

Easy Serviceability

is ensured by an innovative, easily removed rack-mounted top cover, along with cable-free hot-swappable drives, fans, and power supplies.
Western Digital
Enterprise Storage

Suggested Workloads
SDS Environments
Big Data
Private Cloud
Data Analytics
Cloud Infrastructure
Virtualization
Database
World Class Support
With Every Purchase
Every Western Digital RAID storage solution we sell is backed by over twenty years of excellence in storage solution design. Our storage engineering team puts every system through a stringent series of tests before to ensure flawless performance and compatibility. This technological expertise continues to work for you after the sale, as we provide a comprehensive 5-year limited warranty with advance parts replacement.
Comprehensive 5 Year Limited Warranty
Advance Parts Replacement
Direct Access to Expert Support Team