Finally an EPYC Desktop
Posted on July 7, 2017 by admin

Last month, we were proud to announce the all-new AMD EPYC processor, making it available to you in our new line of servers. As pleased as we've been with the performance of the new servers, it should go without saying that we've been chomping at the bit to introduce a desktop workstation built on this new EPYC platform. Without further ado, we are pleased to announce the new Pogo Linux Vorticon 575E.
High Thread Count
With an available 24 or 32 cores per CPU plus up to 512 GB of memory, the Vorticon 575E promises exceptional multi-threaded performance. Given the half-decade gap since AMD's last major platform upgrade, we've been expecting nothing less than world class performance numbers. With the benchmark numbers we've been seeing in our initial tests, we are happy to report there's once again some competition in the high-performance computing market. The price-to-performance ratio of the AMD EPYC platform makes it a compelling alternative to the leading enterprise computing platforms.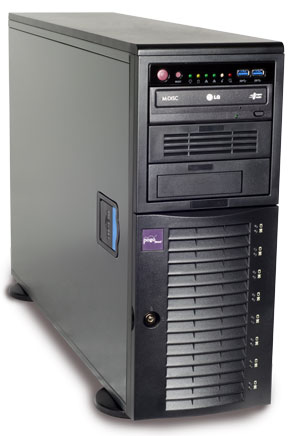 Configure your own Pogo Linux Vorticon 575E featuring AMD EPYC Processors here.