6/29 WEBINAR – Multi-Tenancy Everywhere: The Evolution of the Modern IT Department
Posted on May 5, 2022 by rawee.k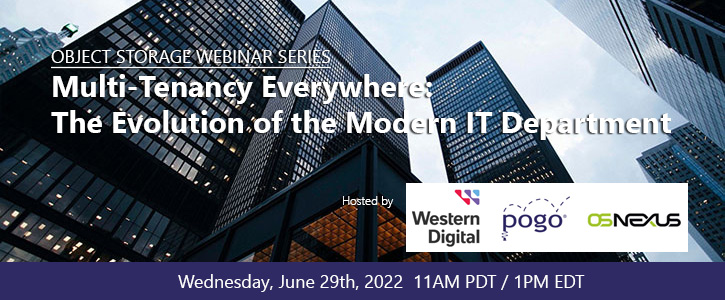 The adoption of remote and hybrid work throughout the pandemic accelerated the digital transformation that IT organizations had already been undergoing by months, even years. However, as organizations shift a multitude of users and varying workloads between on-premises, public and private clouds, and the edge, the rise in data breaches and ransomware has prioritized the need for data protection and security, in addition to resource agility requirements.
Learn about tthe benefits of the QuantaStor software-defined storage platform and Pogo Linux hardware solutions – powered by Western Digital high-performance, low-latency NVMe™ storage and NVMe-over-Fabrics™ networking technologies – enable secure, high-performance multi-tenant object storage environments that can prevent a ransomware or a data loss event.
💻 Protect Your Data From Ransomware with Multi-Tenant Object Storage with NVMe
Join OSNexus, Pogo Linux and Western Digital on Wednesday, June 29th at 2PM Eastern / 11AM Pacific dive into all things Ceph storage clusters and NVMe-over-Fabrics, hosted by Pogo Linux and OSNEXUS. Learn about industry-specific best practices and tips to deploy a large-scale, multi-site cluster on the QuantaStor SDS platform with Western Digital NVMe-over-Fabrics technologies.
Register on BrightTalk today to attend the entire webinar.
How to Design a Multi-tenant Object Storage Solution
If you'd like to learn more about how Pogo Linux storage solutions enable secure multitenant environments that prevent ransomware attacks or a data loss event, give us a call at (888) 828-7646, email us at sales@www.pogolinux.com or book a time calendar to speak. We've helped organizations of all sizes deploy scalable, high-performance object storage solutions for just about every IT budget.