Technology Overview: What is Hyperconverged Infrastructure
Posted on December 12, 2022 by rawee.k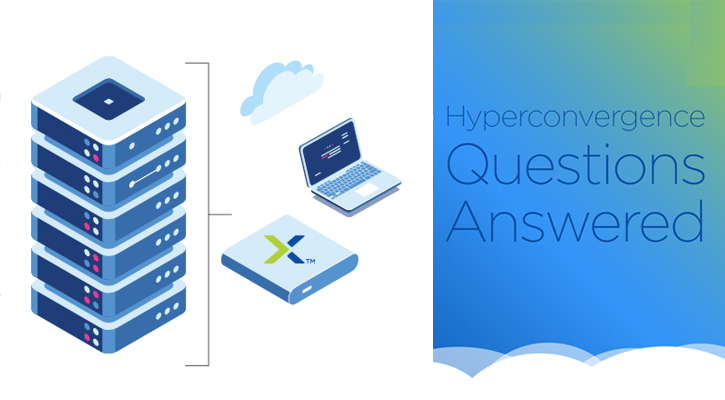 Traditional IT infrastructure is comprised of a multi-layered stack of technologies that need to be integrated carefully and are typically managed by teams of engineers who specialize in one piece of the overall puzzle. This architecture, typically centered around monolithic storage arrays, has worked well for traditional business applications, but has led to increasingly siloed organizations, long project timelines, and ballooning budgets.
As a result of modern data center compute and storage workload requirements, there's an urgent need for innovation and a paradigm shift within enterprise infrastructure that enables IT professionals to work smarter, not harder. Enterprise IT teams today are looking for ways to deliver IT services with the speed and operational efficiency of public cloud services such as AWS, Azure, and Google Cloud Platform (GCP).
The Emergence of Hyperconvergence
Hyperconverged infrastructure (HCI) has been around for more than a decade, simplifying datacenter operations, and enabling faster scaling with lower cost than traditional infrastructure. This article outlines an easy-to-understand, non-technical explanation of What is hyperconvergence? Read further to learn about:
The definition of hyperconverged infrastructure in its simplest form
The components of HCI and the problems it solves
The differences between 'converged' and 'hyperconverged' technologies
What the market acceptance rate is for HCI
⚡ What is Hyperconverged Infrastructure (HCI)?
Technical definition of hyperconverged infrastructure combines compute, networking, and storage into a single distributed platform deployed in clusters and powered by an intelligent software layer that can be deployed quickly, scaled seamlessly, and managed effortlessly. Separate tiers of servers, storage networks, and storage arrays can be replaced with a single hyperconverged solution to create an agile datacenter that easily scales with your business.
Less-technical definition: It breaks down the legacy storage silos of traditional infrastructure, reducing complexity and enabling superior performance and resilience.
The most simple definition: Remember when you wished for your nights, weekends, and holidays back when you blew out your birthday candles this past year? HCI is your wish granted. (The sysadmin in this video went as far as to say it gave him his life back!)
⚠️ PRO TIP: For a complete drilldown, download The Definitive Guide to Hyperconverged Infrastructure (PDF ebook) by Nutanix.
⚙️ What are the components of hyperconverged infrastructure?
There are really just a couple main components of HCI: a distributed infrastructure plane and a distributed management plane.
The distributed infrastructure plane: This runs across a cluster of nodes delivering storage, virtualization, and networking services for guest applications—whether they're VMs or container-based apps.
The distributed management plane: The beauty of a single-pane-of-glass! The management plane lets you easily administer your global HCI resources from one place and one view. It eliminates the need for separate management solutions for servers, storage networks, storage, and virtualization.
HCI solutions are 100% software-defined, which means zero dependency on proprietary hardware. In addition, HCI provides data center administrators with the option to work with a wide-range of appliance and server platforms from multiple vendors.
⚠️ PRO TIP: Make sure your HCI solution can work with any hardware vendor and has qualified the hardware/ firmware for easy and reliable upgrades.
⭐️ Does hyperconvergence just mean hardware resources consolidated?
No—hyperconvergence builds a scalable storage infrastructure that is rich in features. Deduplication, compression, snapshots, replication, and any of the features you would find on a storage array are available, but they are implemented in software using distributed systems technologies instead of purpose-built hardware.
Additionally, HCI provides complete end-to-end visibility of how your cluster is performing via a single management pane, and you can take advantage of the fact that storage and compute are colocated to further improve application performance.
💫 What is the difference between 'converged' and 'hyperconverged' infrastructure?
The two are fundamentally different architectures that result in drastically different outcomes in terms of business agility, application availability, performance, security, and cost efficiency.
Converged infrastructure (CI) is a different way of purchasing traditional infrastructure and is typically pre-integrated by a vendor or Systems Integrator. Despite pre-integration, CI is built on the same hardware-centric components, and it doesn't remove organizational silos or solve the problems related to traditional infrastructure.
In contrast, Hyperconverged Infrastructure (HCI) completely re-thinks the way infrastructure can be designed, purchased, deployed, managed, and expanded. HCI is deployed on commodity hardware with all of the intelligence in software and is architected from the ground up to automate the tedious tasks that traditionally plague IT while providing extensive insight and control over the environment.
💡 What IT challenges can be solved with HCI?
With hyperconverged infrastructure you don't have to purchase and manage storage and servers separately.
It combines compute, storage, networking, and virtualization resources which saves money that would have been spent on hardware, power, and hiring specialists to manage, and it also saves time that would have been spent on deployment and operational issues. Furthermore, with HCI infrastructure management becomes vastly easier thanks to a single management interface, eliminating the need for separate management solutions for servers, storage networks, storage and virtualization.
📈 What kind of traction has HCI received in terms of market adoption?
In its short life, HCI has undergone a significant transformation and is now able to support the vast majority of modern applications and use cases from a common platform, including VMware, Citrix and more.
Enterprises are increasingly adopting HCI—according to the same 2018 State of the Enterprise Datacenter Report mentioned previously, 67% of respondents say they either have adopted HCI or are open to adopting it. And Gartner predicts that by 2020, 20% of business-critical applications currently deployed on 3-tier will transition to hyperconverged infrastructure.
Pogo Linux Nutanix HCI Solutions
Whether Nutanix hyperconverged infrastructure is new to you, or you believe you're an expert, there still may be some technical benefits to HCI you may not be taking advantage of. We can help educate your team on the potential technical impact HCI can have on strategic business and IT initiatives.
Interested in trying it out? Visit our Hyperconverged Infrastructure solution page to learn how to take a Nutanix test-drive through any browser. In just a few clicks, access a test cluster remotely to spin-up a cluster in the cloud within minutes.
If you'd like to learn more about how Pogo Linux HCI solutions enable high-performant and secure data center architectures with simplified management, give us a call at (888) 828-7646, email us at sales@www.pogolinux.com or book a time calendar to speak. We've helped organizations of all sizes deploy scalable, high-performance object storage solutions for just about every IT budget.