Introducing the Intel Xeon E5 2600 v4 Processor Family
Posted on March 3, 2016 by Rachel B
A "tick" is not merely a check mark or a nuisance insect – it's a major Intel® product launch!
In accordance with Moore's Law, Intel's Xeon® E5 2600 v4 processor family represents a "tick" in Intel's "tick-tock" upgrade model. The overall microarchitecture remains the same, but shrinks. (In this case slimming down from 22 nm to 14 nm).
What this means to you is that our Intel Xeon based server collection just got a major boost. These new Xeon processors are available immediately* as a configurable option on nearly every Intel server we offer.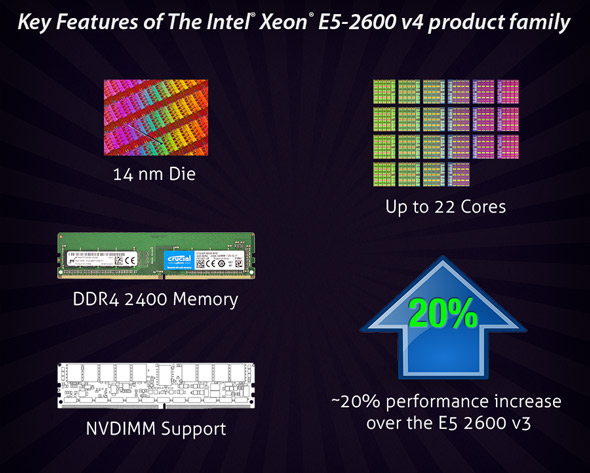 Key benefits of the new processor family are a higher core count (up to 22 cores per CPU), the smaller 14 nm die, faster DDR4 2400 memory, and support for NVDIMMs. Initial benchmarking has indicated an average performance boost of 20% over comparable v3 processor versions.
New additional advanced features have also been added to the architecture. Intel Resource Director Technology (Intel RDT) offers better management of shared platform resources — for example L3 cache and system memory — across networking, storage, and compute using advanced orchestration and automation capabilities. Built for software-defined infrastructure, these new features of the Intel Xeon processor E5-2600 v4 family are foundational to deliver resource utilization, service tiering, and quality of service (QoS) levels that are both efficient and automated.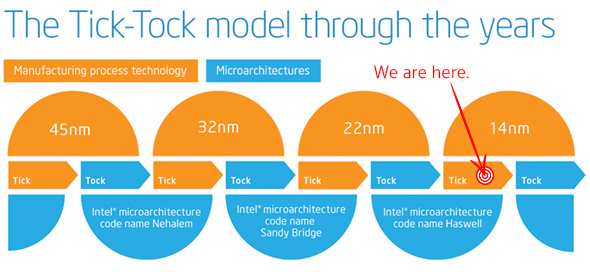 Another notable benefit of the "tick" part of the cycle is that these new CPUs can be run on the same platform as the Xeon E5-2600 v3 product family, with little more than a BIOS update. Contact us if you're interested in upgrading your existing Pogo servers.
Iris 1281RT
Iris 2842T

• Intel Xeon E5-2600 v4 Processor
• 1U chassis with 4x 3.5″ Drives
• DDR4 memory up to 1024GB
• 10GB Ethernet onboard

• Intel Xeon E5-2600 v4 Processor
• 2U chassis Quad Node
• DDR4 memory up to 1024GB
• 10GB Ethernet onboard

If you have any questions, please do not hesitate to call us at 888-828-POGO, or email sales@pogolinux.com to discuss all the advantages of this latest Intel platform. We'll walk you through all of the new technologies, and make sure you get the right server for your needs.
*Please call us for initial availability.