New things. Big things. Intel Solutions Summit 2016.
Posted on April 4, 2016 by admin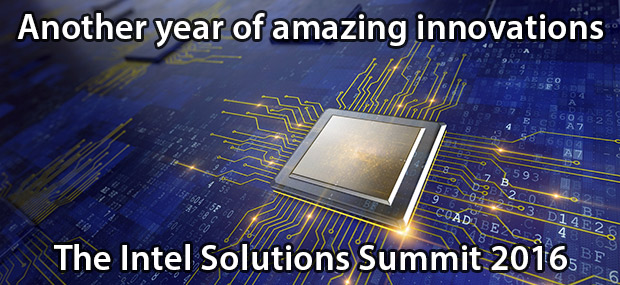 Pogo has just returned from Orlando, Florida where we attended the Intel Solutions Summit 2016. ISS is the annual event where Intel execs give presentations to their partners, sharing juicy details about their current and upcoming projects. Now that the fog of jetlag has begun to clear, let's do a quick recap!
There are a bunch of new (and evolving) projects that Intel was excited to tell us about. Here are just a few of them, which are either available now or will be later this year.
The Intel® Xeon® E5 2600 v4 Processor Family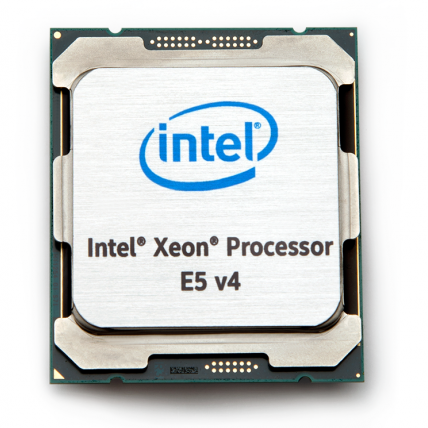 Last week, Intel unveiled their latest generation Xeon CPU. It represents a big step forward in processor architecture, sporting up to 22 cores and a shrunken 14 nm die. One nice benefit of the new v4 architecture is that it can be run on the same platform as the previous v3 processors. This means the v4 is instantly compatible with a huge percentage of our product line. Contact us to check on availability.
3D NAND Memory Architecture
With storage cells layered on top of each other, 3D NAND offers 3x higher capacity than competing technologies. Not only will this bring down the cost per gigabyte of flash based devices, but it will also increase capacity. In the next five years, we will start to see flash drives that are larger than current spinning disks by almost an order of magnitude!
NVMe Protocol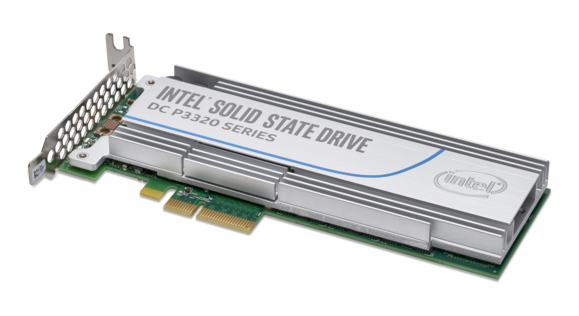 The NVMe protocol (Non-Volatile Memory Express) protocol specifies how non-volatile storage media connects to the PCI Express bus. The new 3D NAND storage devices use this specification. This enables storage that is not only much more dense, but also significantly faster than SATA devices. Ask us how this can dramatically improve the performance of your next Pogo server or workstation!
3D XPoint™ (Intel Optane™)
As outlined in our prior blog post, 3D XPoint (branded as Intel Optane) is set to completely disrupt the memory industry with extremely dense, ultra-fast, non-volatile memory. In the memory hierarchy, 3D XPoint will sit just below DRAM in performance but will be much faster than current SSD flash technologies. Since XPoint is non-volatile, it will open up all new possibilities for caching data or augmenting DRAM for very large datasets. This exciting technology will be available later in 2016. Stay tuned.
Portable Computing Devices
The product showcase featured a huge selection of new devices leveraging Intel's latest processors. With all the latest tablets, detachable 2 in 1s, convertible 2 in 1s, traditional laptops, and mini PCs, there was definitely something for everyone.
Mini PCs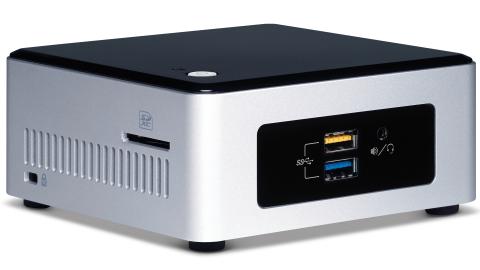 Intel is continually paving the way for new applications of PC technology. They showcased lots of remarkable ways to deploy their NUC (mini PC), and Compute Stick (HDMI pluggable PC in a tiny 'stick' form factor). Their live hands-on demos highlighted portable music production, streaming camera applications, real-time facial recognition, in-store signage, and large scale video display.
With all the amazing new Intel technologies coming out this year, we can't wait to see what Intel has in store for us at next year's event!
---
To learn about how Pogo can help you tackle the challenges your organization is facing, please call us at 888-828-POGO, or email sales@pogolinux.com.