NVMe – moving beyond the dark ages of storage
Posted on October 10, 2016 by Rachel B


For maximum IOPS and minimum latency without a ridiculous power bill, it's time for a better host controller interface to your flash storage! Thanks to the NVMe™ (Non-Volatile Memory express) specification, flash devices can now use the speed and bandwidth of a PCIe connection, without incurring the overhead of emulating a SAS interface. The I/O performance increase is up to 8x the speed of traditional SAS3 with 6x the power savings! The benefits to a desktop system are substantial, so imagine the impact at the enterprise level. NVMe storage pays incredible dividends when scaled up for deployments such as cloud hosting, relational databases, and online transaction processing.
About NVM Express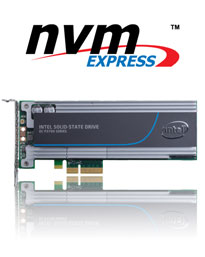 As flash devices have become faster and more dense, they have also been held back by a legacy SAS interface. This interface was originally optimized for spinning disk which has much different characteristics than flash memory. Because of this, the SAS interface has always been a bottleneck for flash storage. NVM Express (NVMe) or Non-Volatile Memory Host Controller Interface Specification (NVMHCI) was specifically created as an optimal interface for the properties of flash storage. For example NVMe can handle 65,000 queues of data, each with 65,000 commands, compared to SAS that has a single queue with a capacity of 32 commands. In addition NVMe supports a streamlined set of only seven commands — far less than the SAS interface. Bottom line, this makes NVMe a far more efficient interface for flash storage, providing lower latency for the most demanding use cases.
Iris NV2248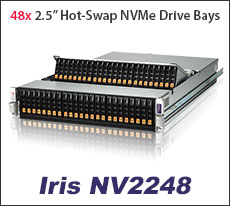 For the maximum savings of space, power, and cooling, look no further than the incredibly dense Iris NV2248. The patented Riser Bay design allows for double the number of 2.5″ drives in a 2U form factor. The 48 NVMe SSDs use 32 PCI-E 3.0 lanes from two Intel Xeon™ processors. The other 8 lanes are enabled by an innovative matrix of 4 PCI-E switches. Take a closer look at the Pogo Linux Iris NV2248.
• 48x 2.5″ Hot-Swap NVMe Drive Bays
• Dual Intel Xeon E5-2600 v4 Processors
• 1600W Redundant Power Supplies
• 2U Rackmount Form Factor
---
Iris NV2224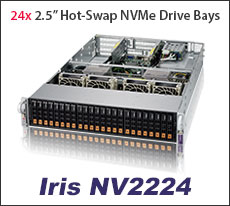 The Iris NV2224 represents an ideal balance of throughput and capacity in a 2U chassis. It will host up to 24x hot-swap NVMe SSDs, all accessible from the front panel. Configure your own Iris NV2224.
• 24x 2.5″ Hot-Swap NVMe Drive Bays
• Dual Intel Xeon E5-2600 v4 Processors
• 1600W Redundant Power Supplies
• 2U Rackmount Form Factor
---
Iris NV1210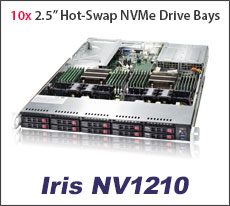 Rounding out the collection of NVMe servers with maximum flexibility is the Iris NV1210. This 1U rack mount server sports a dense front panel with 10x 2.2″ hot-swap NVMe drive bays. Redundant 1000W power supplies ensure uninterrupted world-class performance.
• 10x 2.5″ Hot-Swap NVMe Drive Bays
• Dual Intel Xeon E5-2600 v4 Processors
• 1000W Redundant Power Supplies
• Compact 1U Rackmount Form Factor