Dense and smart at the same time?
Posted on December 12, 2016 by Rachel B

Density and intelligence need not be mutually exclusive. For instance, take the Pogo Linux J4600S storage enclosure. With this solution, an IT admin can decrease both their storage footprint and their power consumption — saving precious power and rack space in the data center. Using a combination of an advanced JBOD design and HGST Ultrastar® drives, the J4600S provides a superior JBOD solution.
High Capacity • Low Power Consumption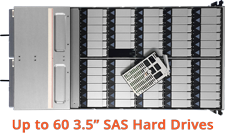 When data centers need storage expansion that delivers low power and high capacity with high-availability, the J4600S storage enclosure delivers. Based on the HGST 4U60 Storage Enclosure, this high-density, scalable, and cost-effective design includes up to 60 HGST Ultrastar® 3.5-inch SAS hard drives modules in a 4U enclosure. Utilizing helium to fill the platter chamber instead of air, HGST Ultrastar hard drives are 47% more efficient (WATTS/TB) than conventional units. This energy efficiency combined with 12Gb/s SAS performance, high availability (HA), hot-swappable components, and a 5 year bumper-to-bumper warranty delivers the perfect storage solution for a variety of data center projects.
One JBOD, Many Uses
The J4600S has proven to be an extremely versatile unit for a wide range of use cases.  With the option to use up to 8 SSD devices per unit, there are numerous caching and tiering configurations available. This JBOD has been extensively tested with our two most common Software Defined Storage solutions and has proven to be a perfect solution for both regular and HA environments. In addition, we have created many 'recipes' in our lab for such applications as Ceph, Swift, and virtualized environments. The J4600S has proven to be so versatile and reliable, it is our go to storage enclosure for all our new enterprise class storage projects.
Dense and Smart
When it comes to storage, it is important to get the best solution for the job. That's why we love the J4600S. Not only is it one of the densest solutions available on the market, it has the smarts to provide low power consumption and the enterprise features that today's data centers demand. Take a look here, or give us a call or email so we can help configure your storage project today.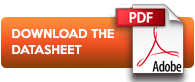 Up to 60 integrated HGST Ultrastar® drive modules

Available with 512e or 4Kn sector size (by part number)
Available option to configure up to 8 Ultrastar SSDs to create separate performance tiers within the enclosure
Available with SAS drives for HA applications or with SATA drives for cost-optimized applications

Host connectivity using 2 x SAS QSFP+ receptacles per IO Module; optional connectivity cables are available

QSFP+ to HD mini SAS cables for host
QSFP+ to QSFP+ cables for daisy-chaining up to 4 enclosures

Hot Swappable: two power supplies (with integrated fans), drive modules, and IO modules
Fully compliant with SAS 3.0 specification for operation up to 12Gbps
Optional cable management arm eliminates tangled cables during servicing of hot-swappable CRUs
SCSI Enclosure Services (SES-3)
Comprehensive 5-year warranty on the entire assembly (not just the drives)

---
To learn about how Pogo can help you tackle the technological challenges your organization is facing, please call us at 888-828-POGO, or email sales@www.pogolinux.com.