The Highest Core Density on the Market: Atlas AMD EPYC Servers with 2nd-Gen AMD Server Processors
Posted on December 12, 2019 by rawee.k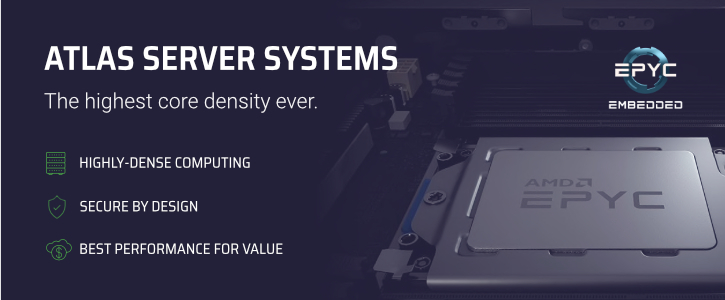 With a long history of building systems featuring AMD server processors – dating back to the Athlon in 1999 and first multi-core Opteron processor of the mid 2000's – we were so excited to learn about the "Rome" EPYC 2 7-nm core architecture ambitions. Delivered in 2017, the first-generation EPYC processors built atop the 14-nm Zen architecture brought a slew of server technology innovations, including a 32 high-performance cores, 128 PCIe lanes, and secure memory encryption for VMs, to reignite the AMD vs. Intel data center war for the cloud. But the new AMD EPYC 7002 CPUs are a huge leap forward.
Since that announcement, Pogo customers that skipped that initial release have been asking about upgrades to their existing AMD server systems. The higher core counts and larger memory capabilities enable us to build compute-dense Atlas server designs for HPC and Internet customers with applications requiring it for key tasks and caches.
The most cores ever. The most I/O's ever.
Built on 7nm advanced process technology – the best the industry has to offer – "Rome" EPYC features double the core density of "Naples" with the world's first 64 core CPU for the data center. The newest EPYC AMD server CPU build on Zen 2 are the first to feature the 7-nm hybrid multi-die design. One of the key upgrades for Zen 2 is the doubling of the core density which means we are now looking at 2x the core count for each core complex (CCX).
The 2nd-gen AMD EPYC™ 7002 Series Processors highlight:
7-nm Core Technology – First-to-market with a hybrid, multi-die architecture for x86 server CPU cores.
14-nm Throughput Technology – Increased I/O performance bandwidth and memory access with advanced security features.
2x Core Counts – High-performance from up to 64 cores per socket.
2x Thread Counts – Double throughput from up to 128 threads per socket.
4x Higher Frequencies – Up to 256MB L3 cache per CPU (up from 64MB)
Improved CPU Clock Speeds – Up to 3.1GHz (with Boost speeds up to 3.4GHz)
Superior Memory Bandwidth– Up to 208GB /sec of memory bandwidth and DDR4-3200 support.
Embedded Security Protection – Defend your CPU, applications, and data.
Pervasive Encryption – Safeguard virtualized environments with AMD Secure Encrypted Virtualization on up to 500 VMs per server.
View our AMD EPYC technology overview
So, that means that users of Atlas AMD EPYC™ servers will experience higher clock speeds for enterprise and data center workloads than previous "Naples" servers. Servers built on the newest family of AMD processors will better handle the most demanding applications and data center needs, including artificial intelligence (AI), data analytics, high-performance computing (HPC), cloud computing, virtualization, software-defined infrastructure, and big data analytics.
Atlas AMD EPYC Servers
Our refreshed Atlas product line of AMD servers take advantage of Rome's features that focus on workloads for high-performance computing, multi-cloud implementation, virtualization and data at the edge. These systems are designed to meet the high-performance computing (HPC), embedded security, and performance value to address modern data center workloads. Featuring 2nd-generation AMD EPYC™ processors, Atlas servers enable highly-dense computing with support for up to 64 high-performance cores and up to 128 threads per socket.
The Atlas server family's 'secure by design' CPU architecture with embedded security and pervasive encryption protects the CPU, data and applications, including up to 500 virtual machines. Experience exceptional performance for value from double the core and thread counts which means a single-socket Atlas AMD EPYC™ server exceeds the performance-per-socket of a comparable legacy dual-socket server.
The six redesigned Atlas AMD EPYC™ servers equipped with 2nd-gen AMD EPYC™ 7002 Series Processors include four 1U models with single-socket or dual-socket options, and two 2U models with dual-socket system configurations. The price for the 1U models is around $3,460, while the 2U models start at $5,680. All are standard rackmount chassis form-factors and are shipping in volume now. The full server product lineup of Atlas AMD EPYC™ server systems.