Server Solutions: 2nd Gen AMD EPYC Processor Overview
Posted on November 11, 2019 by rawee.k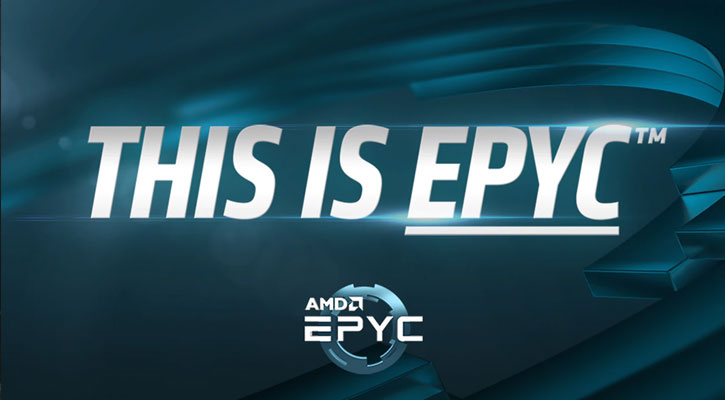 Although the 2nd-gen AMD EPYC 7002 Series Processor was launched in August, mid-sized system integrators weren't able to get their hands on AMD EPYC motherboard components to support the building of high-performance servers immediately at the launch.  Thus, we just posting our Solution Labs overview now, in anticipation of our new redesigned Atlas rackmount servers powered by the newest AMD server CPU technologies.
Double the Throughput with AMD EPYC 7002 Series Processors
Code-named "Rome", AMD has made significant changes to second-generation x86 CPU architecture which help the EPYC 2 deliver twice the throughput of their first-generation "Naples" on the original Zen architecture. The major points for Zen 2 include an entirely redesigned execution pipeline, major floating-point advances which doubled the floating-point registers to 256-bit and double bandwidth for load/store units.
AMD EPYC Rome: The Most Dense Computing from a Server CPU
EPYC Rome processor is made up of (8) Zen 2 dies which are interconnected through the 2nd Gen Infinity Fabric with an I/O die that acts as a central hub of the processor. Each "Rome" processor has a total of 32 billion transistors on the entire package, which makes it one of the most densely packed chip design ever developed.
2nd-Gen AMD EPYC Processor Features:
Take your performance beyond conventional constraints with AMD EPYC's superior memory and I/O throughput to supercharge your applications and IT productivity with:
Advanced CPU Architecture – Built using Zen 2 high-performance cores and AMD's innovative Chiplet architecture.
7-nm Core Technology – First-to-market with a hybrid, multi-die architecture for x86 server CPU cores
14-nm Throughput Technology – I/O, memory access and security features
x86 Compatibility – Run all your favorite code without special code changes
Superior Memory Bandwidth – Up to 208GB /sec of memory bandwidth and DDR4-3200 support
Highly-Dense Computing – More cores than "Naples" with double the core count and thread count.
High Core & Thread Counts – High-performance from up to 64 cores and up to 128 threads per socket
Higher Frequencies – Up to 256MB L3 cache per CPU (up from 64MB) – 4x more shared L3 cache that previous versions
Improved CPU Clock Speeds – Up to 3.1GHz (with Boost speeds up to 3.4GHz)
Maximum Throughput – Maximized system throughput is the hallmark of AMD EPYC 2 equipped systems.
PCIe® 4.0 Ready – The only x86 server CPU to support PCI-Express gen 4.0 – 2X the of gen 3.0 – to connect high-speed GPU accelerators or NVMe drives.
Double the Throughput – 2X the I/O performance bandwidth of previous-generation CPUs from 128 lanes of PCIe® 4.0 connectivity
Integrated Disk Controllers – Access disk drives without the bottleneck of a PCIe RAID controller
Secure by Design – Protect virtual and cloud infrastructure by with next-generation security in processor architecture
Embedded Security Protection – Defend your CPU, applications, and data
Pervasive Encryption – Safeguard virtualized environments with AMD Secure Encrypted Virtualization on up to 500 VMs per server
Performance for Value – Best-in-class performance in single-socket servers versus comparable dual-socket Intel systems
2X the Performance with up 64 cores – With up to 64 cores, AMD EPYC delivers up to 2X the performance of competing x86 server CPUs
More Energy-Efficient – 7nm technology reduces the size of each CPU core to enjoy the same core-performance with roughly-half the energy consumption
The Best Performance for Value
For customers looking to really transform their data centers, the AMD EPYC 2 really create a compelling value proposition when compared to legacy AMD or Intel solutions.  To find out which EPYC processor is right for you based on your workload, AMD has made an EPYC CPU selector tool that allows you to provide your IT infrastructure inputs.
Now Available: AMD EPYC Servers
Rackmount servers built with the newest AMD EPYC processessor  highlight a robust array of form-factors, high speed I/O, storage options, security features, patented technologies and expansion choices allow users maximum flexibility.