Ultimate Computing Power in a Nearly Silent Workstation
Posted on July 7, 2015 by admin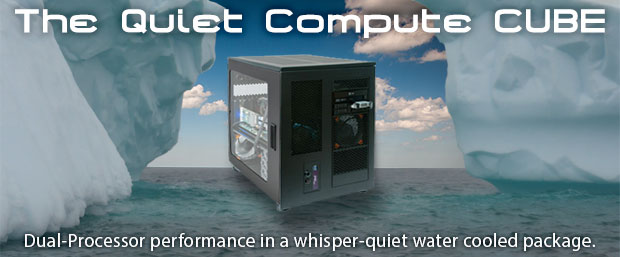 Maximum available computing power peacefully residing under your desk
Big computing doesn't always happen at the data center. Sometimes you need maximum computing power right there at your desk. Unfortunately, being in same room as a maximum-performance PC can be like sharing a room with a jet engine.
Why are systems so loud?
As you probably know, computing power creates heat. Lots of heat. With modern PC components becoming smaller yet more powerful, they require a considerable amount of power to run. This power creates heat, especially under load. When sitting idly at the desktop, most modern PCs are not terribly loud. However, as soon as you start an application that requires a lot of system resources, the internal components heat up quickly.
In a typical PC, this heat is mitigated by a bevy of heatsinks and fans mounted on the CPU and in the computer chassis. As load increases and the CPU starts to heat up, the system increases the speed of the fans to compensate. This works well in a server room or data center environment, where noise is not a problem and there are HVAC systems in place to pull the heated air out of the building. This type of system tends to be unbearable in an environment where humans need to get work done.

Water Cooling to the Rescue
At the behest of several clients, our engineering team here at Pogo has tackled these issues head-on. Enter the T12 Quiet Compute CUBE. This workstation delivers dual Intel® Xeon performance in a headache-free, no-sweat package that you'll be happy to share an office with.
The CUBE's secret weapon is the special closed loop water cooling system. No longer the exclusive domain of hardcore PC enthusiasts willing to take on a science project, water cooling has come of age. The cooling system used in The CUBE is factory sealed and requires zero maintenance. Utilizing a specially formulated coolant, the system conducts heat away from the CPU much more efficiently than plain water. As a result, the system can run extremely processor intensive applications, with barely any perceptible increase in noise.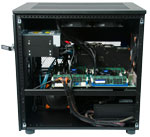 As you might imagine, this system is very popular with universities and government laboratories. We have many happy users at the University of Washington that place a lot of value on the ability to run extremely complex scientific modeling simulations right there at their desk, while being able to concentrate on other work, or having on a quiet conversation!
Processing and I/O performance with no compromises 

Dual Intel Xeon E5-2600v3 Processors / up to 1TB of DDR4 Memory
Huge selection of video cards and expansion cards
Up to eight SSD (or HDD) in optional RAID

Nearly silent operation

100% Reliable / 0% maintenance closed-loop water cooling system
Quiet case fans
Low-noise 1300w power supply
Ultra efficient case
---
To learn about how Pogo can help you tackle the challenges your organization is facing, please call us at 888-828-POGO, or email sales@pogolinux.com.