7 Reasons You Need to Attend LinuxFest Northwest 2014
Posted on April 4, 2014 by admin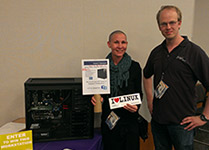 Each and every April, the Linux and open source community descends on Bellingham Technical College for LinuxFest Northwest. For the 11th consecutive year, Pogo Linux is proud to take part in the northwest region's premier conference and expo for all things Linux and open source. Here are seven very good reasons why you should not miss this event!
1. Informative Presentations
Whether you are veteran of the IT world or a brand new Linux user, you will find a plethora of informative and relevant sessions presented by thought leaders of the IT and open source communities. From the basics of the Linux kernel to the complexities of advanced encryption and everything in between, there is something here for everyone. Pogo will be well represented by our head of Product Development, Paul Bibaud. Paul will be doing an insightful presentation about ZFS and Software Defined Storage. Don't miss it!

2. Fun Technology Expo
A cornerstone of LinuxFest Northwest has always been the expo hall, packed full of up-to-the-minute technologies for you to see and experience. The expo has continued to grow so much each year that it had to be moved to a larger facility on the college campus. Stop and say hi at the Pogo Linux booth and grab some fun swag!
3. Raffle for Pogo Linux Workstation and Other Great Prizes
Pogo Linux is proud to be donating a fully-loaded Linux Workstation, to be given away to one lucky winner! There are a great many other prizes given away, as well. Be sure to buy plenty of raffle tickets!

4. Parties
There is always a lively after-party on Saturday night, as well as lots of impromptu get togethers at various bars and restaurants around Bellingham. (Be sure to check out April Brews Day!)
5. Community
The northwest open source community is incredibly diverse, intelligent, and thriving. This is the place to rub elbows with current and future thought leaders from the open source and IT communities. Lots of networking opportunities!
6. Bellingham
If you've ever been to Bellingham, you already know what a great place it is. If you haven't, you're in for a treat. It's a beautiful town full of fun things to do, indoors and out. (Don't forget about April Brews Day.)
7. It's Free
Last but not least, it's free (yes, as in beer)! LinuxFest Northwest is a Washington state non-profit and Federal 501(c)(4) tax-exempt, non-profit organization. This event is really about interacting and exchanging information with the open technology community. It is sponsored by companies such as Pogo Linux, along with donations and the proceeds from the raffle (make sure you buy lots of raffle tickets – trust us, you want that Pogo workstation!).
< tl;dr >
You need to join us at LinuxFest Northwest. It's informative, fun, free, and you can win an awesome fully decked out Pogo Linux workstation!
LinuxFest Northwest 2014
Bellingham Technical College
3000 Lindbergh Ave., Bellingham, WA 98225
Sat. & Sun, April 26th & 27th: 9:30 PM – 5:00 PM (both days)
Register here: 
linuxfestnorthwest.org

From a powerhouse desktop workstation to a multi-petabyte storage system, there's a Pogo solution that's perfect for your IT needs. To learn more, visit www.pogolinux.com or call (888) 828-POGO (7646) to speak with a knowledgeable sales advisor.