AMD is back!
Posted on June 6, 2017 by admin

For many years, AMD has been dormant; its most recent generation of processors (Opteron) launching over five years ago. In the intervening years, the competition has steadily moved forward, removing the AMD Opteron processor from consideration for new server deployments. With the launch of the EPYC processor series, this has all changed. Not only does this new processor have performance comparable to the current x86 competition, but it also supports a full 128 lanes of PCIe with only a single processor. This is a feat with which the current competition simply cannot compete.
Improved CPU Utilization
When AMD set out to design its latest generation of processor, it decided to zero in on what it found when looking at many data centers — low CPU utilization. While most data centers are filled with dual-processor servers, these systems have on average only a 40% utilization rate. Also, most applications are rarely CPU bound, with memory and I/O being the two main bottlenecks. In many of these instances, the main advantage of having dual CPU's is what it provides in the form of total memory count and number of available PCIe lanes. The processing power just isn't necessary.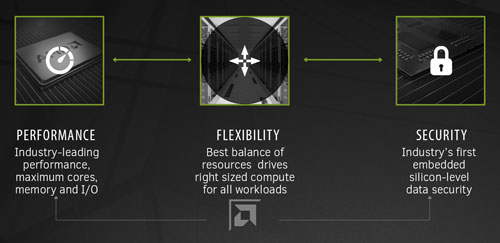 Ideal for Software Defined Storage and GPU computing
Instead of talking in generalities, let's look at two scenarios where a single processor AMD EPYC system could really benefit end users — Software Defined Storage (SDS) and GPU computing. In most of our storage deployments, a powerful appliance or head node makes all the difference. However, most storage systems are not CPU bound. The most important attributes are number of I/O lanes, bandwidth, and memory count. Storage servers must have maximum connectivity (lots of PCIe lanes) and high memory counts (lots of caching). Processing power is secondary. AMD EPYC processors allow a single processor storage system to maximize performance while saving upfront costs and decreasing power consumption over the life of the system.
GPU systems have similar needs as storage systems. However, instead of having lots of external I/O connections, they have the need for massive internal I/O in the form of many GPU co-processors all connected by PCIe. Since the bulk of the processing is being performed by the GPU cards, dual processors are not necessary. Again this is another situation where the TCO of the solution can be reduced by using the AMD EPYC processor.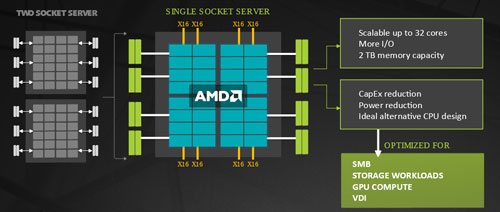 Better price to performance ratio
In addition to single processor systems, the new AMD processor will also be a great choice for regular dual processor (DP) servers–such as the refreshed Atlas 1288R. Based on preliminary performance data, the AMD DP systems are already proving to be comparable to other x86 based systems on the market, and with better price / performance. Competition is good, and with the EPYC processor — we're glad AMD is back!
Specifications
Compute
○ 16 to 32 AMD x86 cores (32 to 64 threads)
○ 512KB L2 cache per core (16MB total L2 cache)
○ 64MB shared L3 cache
Memory
○ 8 DDR channels per socket
○ DDR4 with ECC 170.7GB/s @ 2667MHz
Integrated I/O
○ 128 Lanes PCIe Gen3