HGST 4U60G2 Storage Platform
Posted on June 6, 2017 by Rachel B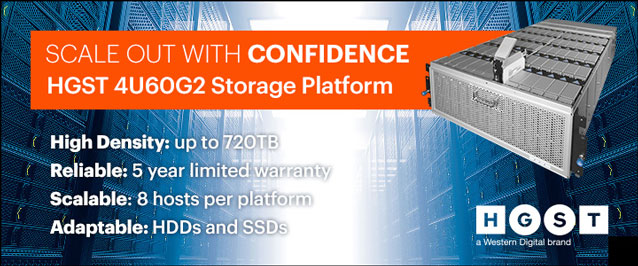 In partnership with HGST, Pogo Linux is proud to announce the availability of the J4601S Storage System. Based on the brand new HGST 4U60G2 storage platform, the J4601S is a cost-effective yet scalable storage solution. Features include an industry-leading 5-year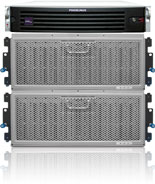 warranty on the chassis and drives, plus scalability from 144TB to a whopping 2.88PB. With up to 60 Ultrastar® drive modules in a single platform, a 12Gb/s SAS interface, and HDD-SSD hybrid capability, this 4U platform is ideal for high-capacity storage needs requiring HA capabilities. When paired with Pogo Linux head nodes for true high availability (HA), the HGST 4U60G2 becomes part of a complete solution for file, block, or object scale up storage.
Key Features
Up to 60 integrated Ultrastar® drive modules
Available capacities: Drive/Capacity: 12TB/720TB, 10TB/600TB, 8TB/480TB, and 6TB/360TB
Hybrid capability: can be configured with SSDs
Available with SAS drives for HA application
Available with 512e or 4Kn sector size (by part number)
Supports up to 4 storage enclosures for daisy-chaining
Host connectivity: 4 x HD Mini-SAS ports per IO Module
Fully compliant with 12Gb/s SAS 3 interconnect
Hot-swappable components
SCSI Enclosure Services (SES-3)
Microsoft Certified for Windows Server 2012, 2012R2, 2016
5-year limited warranty on both drives and chassis
Value Proposition
The Pogo Linux J4601S is the ideal choice for high-capacity storage needs. Talk to the engineers at Pogo Linux and determine the ideal configuration for your needs.