Does your secure NAS have end-to-end encryption?
Posted on June 6, 2017 by Rachel B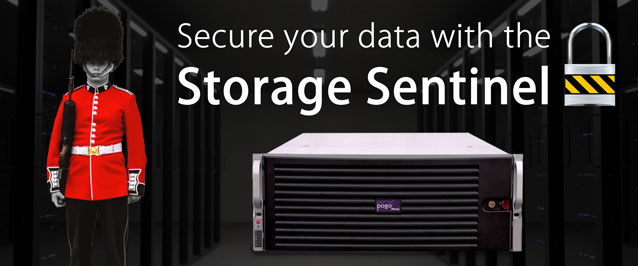 Now more than ever, security is top of the list under IT department priorities. For some industries, anything less than the most hardened security is simply not an option. Rising to meet that challenge, Pogo Linux is pleased to unveil the Storage Sentinel Q4236 Secure NAS Appliance. Aimed at industries such as law enforcement, defense, healthcare, and financial services, these systems provide an unprecedented level of hardware security with data-at-rest encryption that prevents unauthorized access — even for individuals with physical access to the storage media.
Along with the secure hardware, the Storage Sentinel NAS features the latest version of QuantaStor SDS by OSNEXUS. QuantaStor SDS is compliant with governmental encryption standards such as the FBI's Criminal Justice Information Services (CJIS) standard, the Trusted Computing Group (TCG) specification, and Federal Information Processing Standards (FIPS). It provides advanced security features such as activity audit logging, system use notifications, strict password requirements, data encryption in motion, and secure data shredding.
Additionally, the Storage Sentinel is built to perform. Even when an organization requires premium security features, they should not have to sacrifice performance. With this in mind, this system boasts a potent combination of encrypted spinning disks and ultra-fast solid state drive storage.
Key Features
• OSNEXUS QuantaStor SDS high-performance secure storage platform
• Easy to manage ZFS scalable file system
• Audit Logging – complies with CJIS requirements
• Encryption and Security Policy Compliance – complies with CJIS standards
• Advanced RBAC Security Model – Utilizes Role-Based Access Controls
• Up to 36 Secure Encrypted Hard Drives
• Dual Intel Xeon Processors
• Up to 1 TB DDR4 Memory
• 3-year limited warranty
No Compromises
The Pogo Linux Storage Sentinel NAS Appliance represents an uncompromising commitment to security without a sacrifice in performance. If your organization requires high-performance data storage built on an extremely secure platform, talk to the engineers at Pogo Linux.