Bryan Lunduke's New Powerhouse Workstation
Posted on February 2, 2019 by Rachel B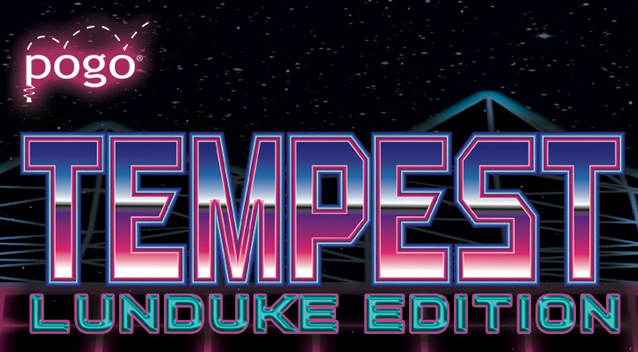 If you're part of the Linux and the open source community, Bryan Lunduke probably needs no introduction. Bryan has reported in from the front lines of the tech industry for many years, across various media. Bryan is also a sought-after speaker at open source conferences. For
the past couple of years, we have partnered with Bryan as a sponsor of, "The Lunduke Show." In celebration of our 20th anniversary and to celebrate the continued success of Bryan's show, we are presenting him with a brand new Pogo Linux Tempest T6X Workstation – Lunduke Edition. This tricked out desktop system has been custom designed specifically for Bryan with dual purposes in mind. It needs to be a powerful Linux-based video and audio production platform, and since it'll be a visual prop in Bryan's studio, it needs to look cool too. Last week, we unveiled the system on Bryan's show":
It's a Wrap
Bryan is in the midst of building a new studio, adorned with a tongue-in-cheek 1980's theme. As soon as we heard that, we knew what we had to do.

We have adorned his new workstation with a fully custom vinyl wrap. The design is reminiscent of the "Synthwave" styled neon vector graphics that were a common aesthetic back in the eighties. For extra points, we've also included Bryan's trademark 8-bit avatar, reimagined with Sonny Crockett's trademark white pants and jacket. If we play our cards right, maybe we can talk him into wearing that outfit at LinuxFest Northwest this year!
Loud Neon – Quiet System
With such an over-the-top eighties theme,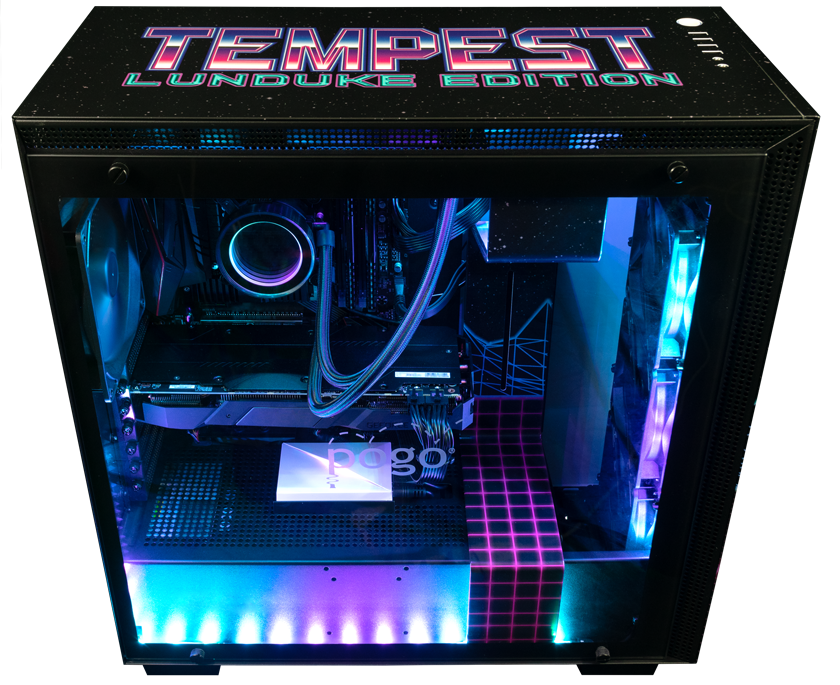 bright neon case lighting is a foregone conclusion. Our engineers installed a digitally controlled lighting solution. This advanced PC lighting system is fully configurable via open-source software with a full complement of RGB colors and countless illumination options. Our engineers have configured it to complement the color pallet of the custom graphics on the case. The liquid cooling system ensures this system stays whisper quiet.
The Configuration
With such an over-the-top presentation on the outside of the box, the inside of the box has a lot to live up to.  In the interest of providing Bryan a powerhouse video editing machine, our engineering focus was to combine a modern CPU with a very fast boot drive, and a beefy GPU.
This custom Pogo Tempest T6X Workstation features:
Intel Core i9 9900k CPU
Intel Z390 chipset
32GB DDR4 2666MHz Memory
NVIDIA Geforce RTX 2070 GPU
Boot SSD: 500 GB Samsung 970 EVO NVMe M.2
Storage HDD: 8 TB Western Digital Ultrastar 7200 RPM
Ultra-quiet liquid cooling unit
Fully programmable custom RGB lighting
One-of-a-kind vinyl wrap
Enthusiastically Enterprise-Grade
Aside from the over-the-top visual presentation, this custom Tempest Workstation is very representative of Pogo's desktop ethos: enterprise grade hardware built to run open source with enthusiast-level performance.
Stay Tuned
Be sure to subscribe to Bryan's YouTube channel, follow him on LBRY, and support him on Patreon. You'll surely be seeing more of Bryan (and his cool new workstation) in the months and years to come. Stay tuned!

---
To learn about how Pogo can help you tackle the technological challenges your organization is facing, please call us at 888-828-POGO, or email sales@www.pogolinux.com.