Two Thousand Nineteen
Posted on January 1, 2019 by Rachel B

Happy New Year! 2018 flew by in what seemed like a heartbeat. It was a good year for Pogo. Time indeed flies when you're having fun, and 2019 is already upon us.  This year is already queued up to be another exciting one.
We are Turning Twenty!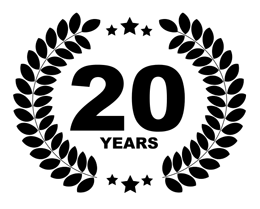 In the volatile and sometimes unpredictable landscape of our information technology industry, longevity is uncommon. Technologies come and go. Methodologies fall into and out of favor. Linux distributions continually iterate and improve. For the past twenty years, Pogo has been right here in the thick of it, providing solutions to technological challenges for companies of all sizes, universities, and government organizations. That's right – 2019 marks Pogo's twentieth anniversary! We plan to celebrate this milestone in a variety of ways throughout 2019.
Busy Calendar Ahead
This year will be Pogo's busiest ever for trade shows and open source conferences across this great nation. We'll be proudly exhibiting at some of our favorite open source events, such as the SoCal Linux Expo (aka SCaLE 17x), and LinuxFest Northwest (also celebrating their 20th anniversary!). We'll have booths at several other big shows, such as NAB and SIGGRAPH to name just a couple. We also look forward to returning to LISA (in Portland this year). We will be adding more as get further into the year. For an up-to-date list of upcoming shows, please visit our Events Page.
Cool Swag Alert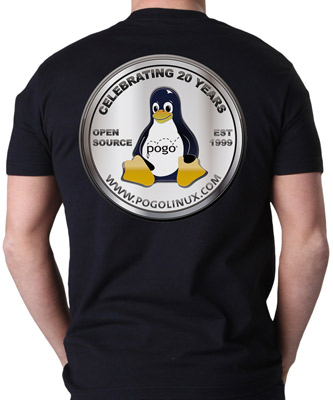 After an extended absence, back by popular demand: The Pogo Linux Coin T-Shirt! Help us celebrate our twentieth anniversary in style. Our original "coin" t-shirt was a huge hit when it was first introduced in the early 2000's. It has now been several years since we've made them available, and they've been very persistently requested by our fans. We are stoked to be updating our famous coin for our 20th anniversary. Stop by our booth at an upcoming show to get yours. Supplies are limited – first come first serve!
Exciting New Technologies for 2019
This year, we'll also have a bunch of cool new tech for your server room and data center.  Our storage software partner OSNEXUS will be releasing their eagerly awaited new version of their flagship software-defined-storage application, QuantaStor SDS 5. We're also looking forward to new CPUs from Intel, and new storage solutions from Western Digital. Check back often to www.pogolinux.com.
---
To learn about how Pogo can help you tackle the technological challenges your organization is facing, please call us at 888-828-POGO, or email sales@www.pogolinux.com.