DRAM Prices Are Still Falling: Here's 5 Ways Your Data Center Can Benefit from the Memory Free-Fall
Posted on April 4, 2019 by rawee.k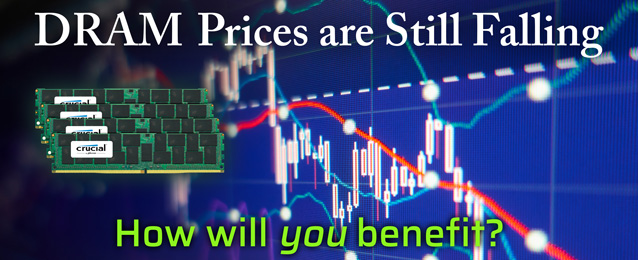 If you've peeked at memory prices recently, you probably know that the cost for DRAM chips have been falling. According to DRAMeXchange, DRAM prices have plummeted by nearly 30 percent so far in the first quarter of 2019 and are expected to continue their price-fall.
What's Happening?
Since January, the price for memory has dropped 30%, experiencing its largest decline since 2011.  At the same time, most DRAM contracts between global hardware manufacturers have transitioned from quarterly to monthly deals in an effort to cope with the pricing volatility and minimize cash reserve burn.
Why is this Happening?
Chipmaker Intel, responsible for 90% of the CPU server market, has doubled-down on higher-priced CPUs, leaving a shortage of low-end chips.  This 'suppression' of demand for low-end rack mount servers has created a surplus of availability for DRAM inventory.
DRAM contracts are the purchasing agreement between the primary DRAM manufacturers and global OEM's, whose hardware demand are tied to Intel chips. As the volatility of DRAM prices is expected to continue into the middle of 2019, most contracts have switched from quarterly to month-to-month deals to ensure fair market prices.
How Pogo is Responding?
As a US-based system integrator that has served the IT and Open Source communities for over 20 years, we have seen our fair share of supply chain disruptions, and have the battle-scars to prove it. At Pogo, it is always our intention to respond to any technology crisis or market volatility with our customers best interests first and foremost.
As a smaller systems integrator, we have the flexibility to take advantage of these volatility swings so your IT infrastructure comes out on top.  To maintain market integrity, we purchase memory weekly thru our DRAM supply chain to ensure any new Pogo webquote (or one done with a sales rep) is accurate and reflexive of the current DRAM marketplace.
How Your Data Center Can Benefit?
Strategically, as an IT buyer, whether you purchase hardware on a planned schedule or just-in-time to meet project needs, as DRAM makers struggle to reduce inventory, the current price-drop gives you two primary areas where your data center can benefit, either:
Upgrade the servers you have to extend the longevity of your previous IT investment.
Deploy new servers to realize immediate cost-savings and performance gains.
So, whether you're looking to improve server operations and efficiency, or increase data-throughput performance for business-essential applications, here are the Top 5 Ways Your Data Center can Benefit from the Server Memory Free-Fall.
Stock Up on Server Memory
When DRAM prices drop, it's always a good idea to stock up on memory to have some extra on-hand in your data center. Having extra 16GB, 32GB or 64GB memory DIMMs available means you won't have to compromise downtime or performance with the ability to quickly swap-out new DIMMs into an impacted system. So when given the opportunity to increase your stockpile, always take it!
Upgrade Server Memory to Improve Performance
With memory prices running this low, now would be a great time to upgrade. Why? Upgrading a server's memory is much cheaper than buying more servers – and it does not change your current footprint of hardware to manage.
New memory (or a system upgrade) can breathe new life into a server, to improve  server multi-tasking, increase virtualized workloads or enhance performance of essential business applications.
Upgrade DRAM to Increase Next-Gen Workload Requirements
Don't have the IT budget for a full-blown server refresh? Whether you need to increase server tasks or boost overall server performance, a memory upgrade can be a very cost-effective way to get more productivity out of your existing IT server investment.
If you're running 16GB or 32GB servers, consider taking advantage of the recent price drop by maximizing performance with an upgrade to 32GB or 64GB.  For example, if you're serving a SQL database, the additional memory will improve cache queries, perform bigger sorts and will likely reduce overall CPU and disk utilization, thus increasing server efficiencies.
>Running a virtualized environment?  Increase server memory to add more workloads, which saves money while reducing your server footprint.
Do a Full-Blow Server Refresh
If your company works on a 3, 4 or 5-year refresh cycle, now would be a great time to replace older production hardware.  If budget is already allocated, you can speak to your head of finance about the immediate cost-savings and performance gains you'd realize by getting new rack mount servers now vs. later.
Purchase Project Hardware Now vs. Later
If you have a project coming up later in 2019, it may be enormously helpful to upgrade now.  Depending on how many servers, or how much total RAM your project will need, it's worth exploring a server system quote for how much you might be saving by submitting a company purchase order to fulfill your upcoming project now.
Ask the Rack Mount Server Experts:
At Pogo it is our goal to help you maximize your IT budget throughout the duty cycle of your existing infrastructure. We hope you've come away with a few new ideas on how to make the most of your investment. However, if you have questions, please contact a Pogo sales engineer. We are always here to assist you.

---
To learn about how Pogo can help you tackle the technological challenges your organization is facing, please call us at 888-828-POGO, or email sales@pogolinux.com.