Two Cities, Two Free Open Source Events
Posted on September 9, 2015 by admin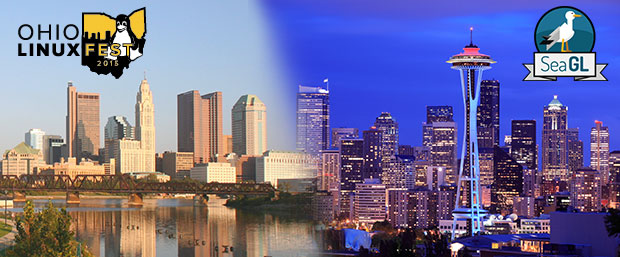 Now that summer has ebbed and autumn is taking hold, our open source trade show schedule is cranking up once again. This Friday, we're thrilled to return to Columbus for Ohio LinuxFest. Then later in October we're sponsoring SeaGL 2015 in Seattle. Per usual, we'll have lots of fun swag and prize drawings at both shows. Here are some more details…
Originally created as a way for regional LUGs to get together, Ohio LinuxFest is now in its thirteenth year. The conference continues to grow rapidly with each meeting. This year, they're expecting well over a thousand open source professionals and enthusiasts to attend the expo and info sessions.

This year's keynote will be delivered by Alan Robertson, founder of the Linux-HA project. The info sessions promise to have something for everyone. Topics run the gamut from the basics of encryption to the management of Linux-based infrastructures. Best of all, it's free (as in beer)!

To top it off, we are donating a nicely appointed Linux Workstation to be given away in the OLF raffle (click the image for specs). Make sure you buy plenty of tickets!

SeaGL Conference – Oct. 23rd & 24th

Also free (as in beer) for attendees, the 2015 Seattle GNU/Linux Conference is now in its third year. Though comparatively new, this show has quickly built a reputation for hosting high-quality content. This year is definitely no exception. Shauna Gordon-McKeon of Rapid Science will deliver the Saturday keynote. The show will wrap up on Sunday afternoon with a presentation by the creator of the GNU Project and pillar of the open source community, Richard Stallman. In between those two events, there is a jam-packed schedule of informative and entertaining presentations. You'll have trouble narrowing it down to which ones you want to attend!

And you know Pogo will be at both shows, highlighting our new virtualization-based systems and giving away our ever-popular promotional items. Not only that, in partnership with Micron we are giving away several Solid State Drives. Stop by our booth and fill out an entry slip for your chance to win!

---

To learn about how Pogo can help you tackle the challenges your organization is facing, please call us at 888-828-POGO, or email sales@pogolinux.com.