A plug-in hybrid for your data center
Posted on August 8, 2017 by rawee.k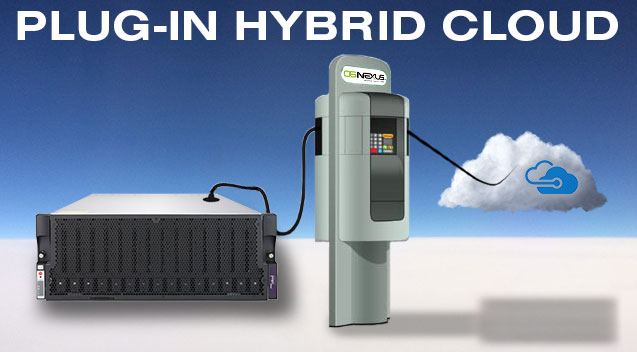 IMAGINE seamlessly integrating a cloud-based storage appliance that works in perfect harmony with your on-premise storage solution.
INTRODUCING a hybrid cloud storage solution that combines on-premise Pogo Linux Storage Director appliances with the OSNEXUS Virtual Storage Appliance (VSA) for Microsoft Azure.
Hybrid Cloud Storage with OSNEXUS and Microsoft Azure
The Pogo Linux Storage Director series of SDS appliances is the ideal building block for creating a hybrid cloud storage solution. By providing many different storage and connectivity options, organizations can take advantage of the cost, performance, and security advantages of having local large-scale storage, without sacrificing the benefits of a cloud-based storage solution. By creating a storage grid between the on-premise Pogo Storage Director and the OSNEXUS VSA hosted in Microsoft Azure, customers can seamlessly serve storage to both local and cloud applications in a completely integrated environment. This hybrid approach optimizes cost,
performance, and security to help customers get the most out of their IT resources.
Pogo Linux is now including a QuantaStor VSA cloud license key with all of their OSNexus based Storage Director series appliances. The key will provide a QuantaStor VSA cloud license for the Microsoft Azure platform.
"Storage Director appliances combined with QuantaStor VSAs running on the Microsoft Azure platform provides flexibility to organizations managing their storage assets in any data center, on-premises or in the cloud."
-Steven Umbehocker, CEO of OSNEXUS
Read the press release at PR Newswire.
Contact a Pogo Linux sales engineer to configure your ideal hybrid cloud storage appliance with and OSNEXUS QuantaStor VSA license for Microsoft Azure.

---
To learn about how Pogo can help you tackle the technological challenges your organization is facing, please call us at 888-828-POGO, or email sales@www.pogolinux.com.