Drive-up Capacity for Less with Western Digital DC HC500 Series Hard Drives
Posted on September 9, 2020 by rawee.k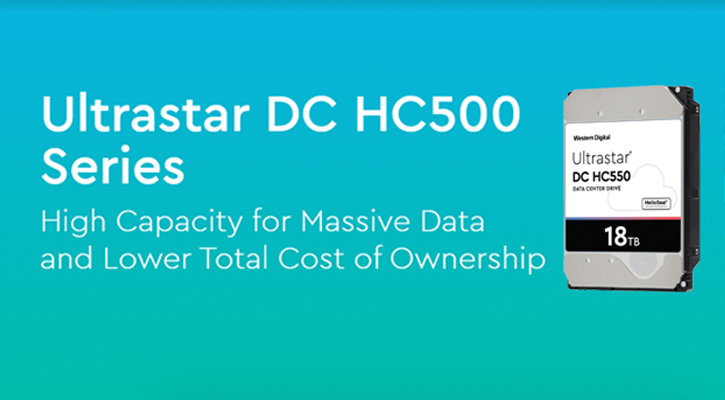 Need to drive up storage capacity while driving down TCO? Western Digital's large-capacity enterprise HDDs are now available up to 18TB. The high-capacity Ultrastar DC HC500 Series HDDs can help solve TCO challenges at where storage density and cost-efficient infrastructure is crucial.
The purpose-built DC HC500 Series product family is based on Energy-Assisted Magnetic Recording for extreme capacity and areal density, and utilize the industry's first Triple Stage Actuator. These innovative WD technologies integrate with HelioSeal® 9-disk platform design to deliver the highest density and unmatched TCO.
WD Ultrastar DC HC500 Series Hard Drives
18TB Ultrastar DC HC550 3.5″ HDDs can be configured on many Pogo Linux rackmount servers. Scale-up capacity and move a massive amount of data in hyperscale data center or on-prem private cloud environments which require high-capacity, low power consumption and increased data reliability.
📈 Extreme Capacity – Drop-in up to 18TB SATA 6GB/s or SAS 12Gb/s HDDs for Big Data workloads.
🔋 Lower Power – Reduced power consumption from up to 61% lower idle Watts/TB than 10TB Ultrastar air-filled drives.
✅ More Reliable – Raising the bar on reliability with 25% higher mean time between failures (MTBF) than air-filled drives.
Leveraging Western Digital HDDs in the Data Center
Following the launch of the new WD Ultrastar DC series NVMe SSDs with capacity sizes from 800GB to 20.72TB, Pogo Linux server users will experience low-latency and high-throughput for high-transaction AI and ML applications from fast, dense and efficient NVMe SSD storage. In both single- and dual-processor rackmount server configurations, data center leaders will be able to accelerate access to critical data – ideal for AI and ML workloads with read-intense workloads – from 96-Layer 3D NAND and up to 1.2M random read IOPS.
We'd be excited to take a deeper dive into how to architect low-latency and high-throughput with NVMe SSD storage at petabyte scale for AI & ML workloads. Schedule a time or give us a call at (888) 828-7646 to learn how we've helped businesses of all sizes with custom hardware configurations and exceptional technical support.