Boost Application Performance with Western Digital Ultrastar DC SN640 NVMe SSDs
Posted on March 3, 2020 by rawee.k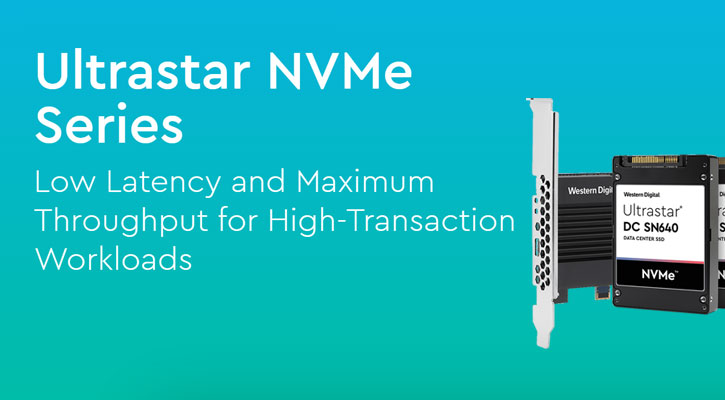 Enterprise disk drive manufacturer Western Digital has made widely-available its Ultrastar® DC SN640 NVMe SSD. Based on the company's 96-layer 3D flash technology, the SN640 is a purpose-built NVMe SSD that delivers low latency and maximum throughput for selected high-transaction workloads and use-cases.
The newest member of the Western Digital NVMe SSD product family is engineered for workload flexibility and data security, such as hyperconverge infrastructure (HCI) and server virtualization, enterprise applications and other data center environments, where high performance is more important than lower cost. Data center users of SN640 will be able to level-up application performance for real-time workloads, like SQL Server and other databases, which require high performance at very low latency. In addition, users can improve data services to enhance user experiences.
Ultrastar DC SN640 Overview
The new Ultrastar DC SN640 NVMe SSD improves performance and responsiveness over the current generation DC NVMe SSD products while offering capacities up to 7.68GB in U.2 and M.2. The SN640 includes Western Digital's industry-leading 96L BiCS4 3D TLC NAND and in-house NVMe 1.3 controller that provide 5x read performance over SATA SSDs. The DC SN640 is a cost-optimized NVMe SSD for broad deployment into cloud and hyperscale and on-prem data centers. The SN640 includes enterprise reliability features, including power-loss protection, end-to0end data path protection and a 5-year limited warranty.
A Purpose-Built NVMe SSD
The Western Digital Ultrastar DC SN640 is a purpose-built NVME SSD solution, meaning it's not designed for every workload or application. End-users really need to understand their workload and data usage patterns realize this NVME SSD's unparalleled benefits. SN640 works best when you write at 32k alignments (or multiples) to the product – as read patterns are not important in these selected workloads.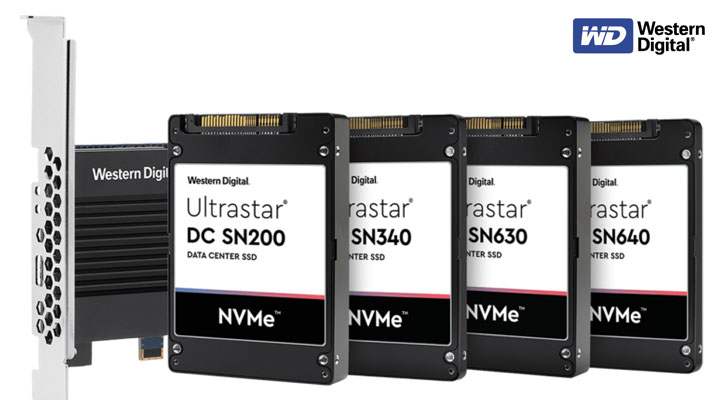 Ultrastar® DC SN640 NVMe SSDs Benefits
Take your performance beyond conventional constraints with low latency and maximum throughput to supercharge your data center workloads and applications.
Up to 1.2M random read IOPS – Optimized for all common read-intensive and mixed-use workloads.
High-performance PCIe Gen 3 – 5x read performance improvement over SATA SSDs and 65% less power consumption compared to 25w performance over NVMe SSDs.
Enterprise Data Durability Feature –
96-Layer 3D NAND –
Options for read-intense and mixed-use workloads – Tunable capacity for application performance from up to 195k IOPS (70/30 random mixed workload).
Enterprise-class 2M hour MTBF reliability rating – Vertically-integrated with proven controller architecture accelerates qualification.
Optimize for endurance and performance, to which the product was engineered, for selected high-transaction workloads and application use-cases, including:
Mission-Critical Database Applications
Server Virtualization & Hyper-Converged Infrastructure (HCI)
Cloud and Hyperscale Storage & Computing
Analytical Processing (OLAP)
Content Delivery Network (CDN)
Software Defined Storage
File, Block and Object Storage Applications
Direct-Attached Storage (DAS)
Choosing the Right NMVe SSD Drive
The Ultrastar® DC SN640 NVMe SSD is available in both M.2 and U.2 form-factors with capacity availablity from 800GB to 30.72TB.  If you need to boost application performance or improve responsiveness to end-users for data services, Western Digital NVME SSDs solutions are configurable with our Intel Xeon servers and AMD server solutions. So, if learning more about NVMe flash-based SSD technologies resonates with your current IT needs, let's schedule a time to speak. We've helped businesses of all sizes with custom hardware configurations and exceptional support, for just about every IT project.