Top 4 QuantaStor Integrations to Connect the StorageDirector Q-Series
Posted on November 11, 2019 by rawee.k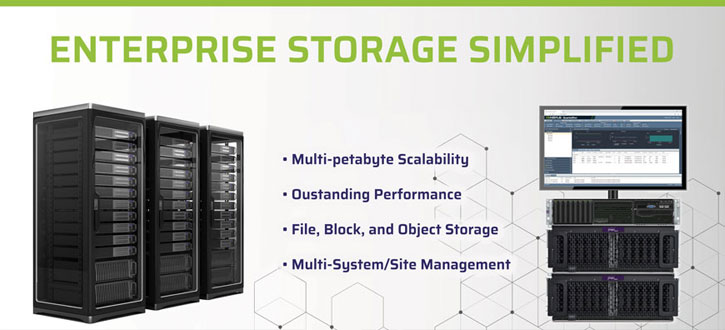 You've probably heard that our StorageDirector Q-Series is a powerful software-defined storage solution that's perfect for high-performance file, block and object storage protocols.  But did you also know that you can connect the Pogo StorageDirector to 18+ possible integrations to power your network storage infrastructure?
Powered by the latest version of OSNEXUS QuantaStor, the StorageDirector is a complete software-defined storage system that extends the capabilities of QuantaStor v5.0.  Connect to the systems and applications that are critical to everyday business, including:
DR & Backup Integration – Connect your network's enterprise-grade disaster recovery and backup tools that keep your business up-and-running.
Container Integration – Manage persistent shared storage across containerized applications through API's and command-line tools.
File Share Integration – Create cloud containers for popular file share tools that information workers use on a daily basis.
Hadoop Integration – Deploy a storage grid that connects to Hadoop data cluster instances to manage less hardware.
Monitoring Integration – View popular system, network and infrastructure monitoring tools that can be connected to OSNEXUS QuantaStor.
Top 4 OSNEXUS QuantaStor Integrations
Level-up your storage efforts by connecting your StorageDirector to the most popular systems and applications, including containers, backups, media and file share tools.  Check out the Top 4 OSNEXUS QuantaStor integrations to get more from your StorageDirector Q Series deployment.
Veeam – Veeam integrates with QuantaStor SDS for backing up Windows, Vmware/Hyper-V and Linux workstations and storage servers.
Docker Containers Volume Plugin – Map to QuantaStor shared storage volumes to Docker persistent containers.  Easily create and manage persistent Docker containers using Docker APIs and command line tools for containerized applications and stateful QuantaStor storage volumes.
Dropbox – Connect your StorageDirector Q-Series to backup Dropbox folders and directories just as if they were AWS S3 buckets.  Dropbox-based cloud containers enable NFS/SMB based access via any QuantaStor software-defined storage system.  Or setup a NAS Gateway to object storage to QuantaStor's Cloud Containers, like AWS and other S3-compatible cloud storage buckets.
Cloudera Hadoop – Configure your QuantaStor storage grid as Cloudera® Hadoop™ data cluster for better Hadoop performance with less hardware. Note that you can still use your QuantaStor system normally as SAN/NAS system with the Hadoop services installed.