Now Available: Intrepid Modular Server Systems with Intel Xeon Scalable Processors
Posted on September 9, 2019 by rawee.k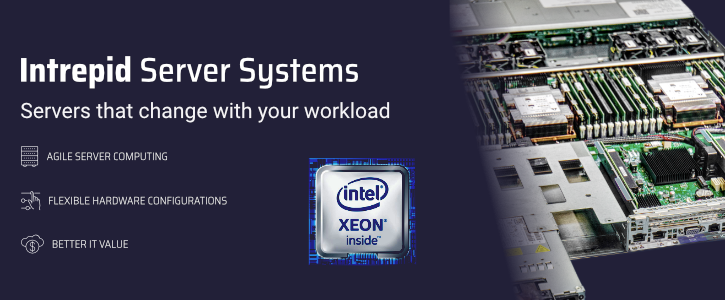 As pioneer in system integration since 1999, we've seen our share of server hardware trends.  From the adoption of hardware RAID and SATA drives in the early 2000's, to the explosion of server virtualization in the mid-2000's, on through the adoption of SSDs in the 2010's in the data center, we've stayed at the pulse of IT needs by delivering the right server hardware at the right time, to keep businesses moving forward.
Although cloud computing has shifted many traditional workloads off-premise via public clouds, the need for on-premise, high-performance compute solutions has never been higher, shifted mainly by the creation of new opportunities from the next revolution of business: the digital and data services economy.
Compute Follows New Data-Driven Economies
At the heart of the current IT transformation is the process, movement, and storage of data. As traditional products and services merge with new data-driven digital economy, technology departments will rely heavily on the support of more connected users accessing real-time data across data centers, private clouds and hybrid cloud (or multi-cloud) architecture.
Data Disruption has become the 'New Normal'
As the volume and velocity of data increases, so too does the inefficiency to stream all this information to a private cloud, hybrid cloud or data center for processing. As data continues to grow, technology departments must shift to support new strategies, which means new IT investments in hardware needs to add value.
Advanced Hardware Needed for Next-Gen Compute Needs
Digitally-transformed organizations that combine business outcomes with digital strategies are winning.  To successfully compete, organizations need to upgrade their outdated IT infrastructure from 2017 (or earlier) that was originally-designed to support cloud computing initiatives.  To address new requirements driven by data demands of today's data center or private clouds, IT managers need scalable computing and flexible hardware configurations across networking and data-driven applications.
We Redesigned Our Intel Server Systems
With this data-driven transformation touching every part IT's infrastructure, the current state of the server hardware cycle is driving the adoption of new technologies – including Intel® Xeon® Scalable Processors, NVMe drives and software-defined storage – that will help power the most demanding workloads in the new digital economy.
With its high compute expense, it doesn't make sense for many businesses to operate these workloads in public cloud environments. On-premise rackmount servers that move toward data forward by processing high amounts of data will help transform legacy infrastructures into cost-efficient data centers.
Introducing: Intrepid Modular Intel Servers
At Pogo, we've stayed fluent to these evolving IT trends, and the solution is advanced yet flexible server hardware.  As a response, we've engineered a modern server systems with next-gen hardware designed to meet the agility, flexibility and value to better address today's on-premises workloads.
The Intrepid product line represents our 3rd major revision to our Intel technology-based servers.  The Pogo Linux Intrepid product line of modern rackmount server systems are designed to meet agility, flexibility and value needs of today's on-premise and data center workloads.
Agile Server Computing – Featuring deep-integration with dual 2nd Gen Intel Xeon processors, Intrepid servers enables forward-compatibility to a full-range of Intel server technologies as compute needs grow, including Intel® Speed Select and Intel® Optane™ DC Persistent Memory.
Flexible Hardware Configurations – The Intrepid family's flexible hardware configuration options feature a modular and highly-dense 1U or 2U server design with the ability to expand from 12 to 24 drive bays. As storage performance needs grow, users have the ability to install 2.5" or 3.5" SSD hard drives or NVMe PCIe expansion cards.
Better IT Value – Realize exceptional IT value with the ability to address modern data-centric workloads and the ability to upgrade technology and hardware needs to meet future IT needs in a single Intrepid server system.
Make your next server refresh last longer with servers that can be modified, as workloads dictate. All Intrepid Intel server systems include pre-installed commercial or free Linux distribution operating systems and come with a three-year warranty.