On-Demand Webinar – How to Unlock Fast, Efficient Ceph Storage Clusters with NVMe-oF
Posted on September 9, 2021 by rawee.k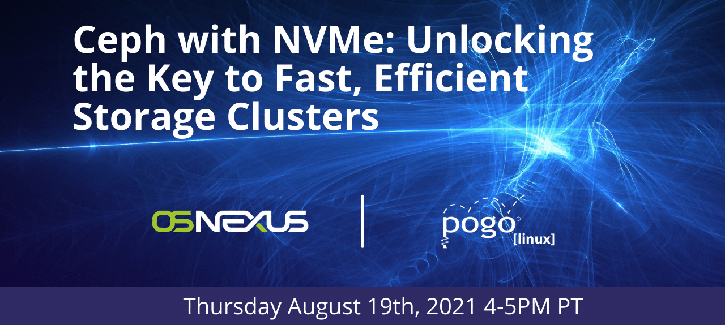 Watch this on-demand webinar for a deep dive into all things Ceph storage clusters and NVMe-over-Fabrics, hosted by Pogo Linux and OSNEXUS from September 2021. Learn about industry-specific best practices and tips to deploy a large-scale, multi-site cluster on the QuantaStor SDS platform with Western Digital NVMe-over-Fabrics technologies.
💻 How to Unlock Fast, Efficient Ceph Storage Clusters with NVMe
Compute and storage trends have converged thru the benefits of composable storage to support users on-premises, in public and private clouds, and at the edge. Discover the benefits of a fast and efficient Ceph storage cluster infrastructure to address increasingly distributed data center workload and services environments, as we explain how fast and efficient Ceph storage clusters enable backup and archive workloads to coexist alongside high-read, large-block applications in the data center and hybrid cloud environments.
Ceph was initially aimed at hyperscaler and HPC environments. However, in recent years its advanced storage technology has appealed to any organization that would benefit from a unified cluster system that supports high-growth file and block storage, S3 object stores and data lakes. Learn how to adapt in real-time to both storage and application requirements with an open architecture solution based on high-performance, low-latency NVMe storage and NVMe-over-Fabric technologies.
Choosing an Ceph Storage Cluster Management Solution
Low latency or high transfer rates are of little benefit if they swamp the target application. While these systems generate IOPS approaching the millions, the reality is that there are very few workloads that require more than the performance of these systems. However, there is an emerging class of workloads that can take advantage of all the performance and low latency of an end-to-end NVMe system.
If you'd like to learn more about how to maximize your data center infrastructure by up to 90% while minimizing its footprint, give us a call at (888) 828-7646, email us at sales@www.pogolinux.com or book a time calendar to speak. We've helped organizations of all sizes deploy composable solutions for just about every IT budget.