Data Center Strategy: What is Composable Infrastructure?
Posted on December 12, 2020 by rawee.k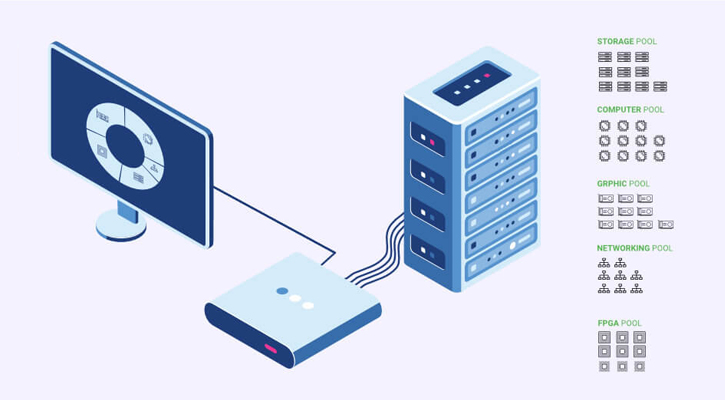 Interested in learning about composable infrastructure architectures? Here's what IT decision-makers and data center administrators need to know to have a primer on composability. Questions? Drop us an email at sales@www.pogolinux.com
The challenge to meet the growing number of on-premises, hosted applications of data-intensive workloads and service requirement – such as AI/ML, dynamic cloud and edge computing – has forced IT organizations to rethink the static architecture infrastructure framework.
Due to costly overprovisioning, traditional infrastructures built on virtualization, containers and convergence – coupled with a slow-down in hardware innovation – have expanded the data center's footprint and management. IT administrators need a simpler approach to manage their on-premises infrastructure and reduce their total cost of ownership and management.
As a result, many data center operators have turned to composability as a modern infrastructure strategy designed to optimize their organization's technology assets with the flexibility and agility of a public cloud.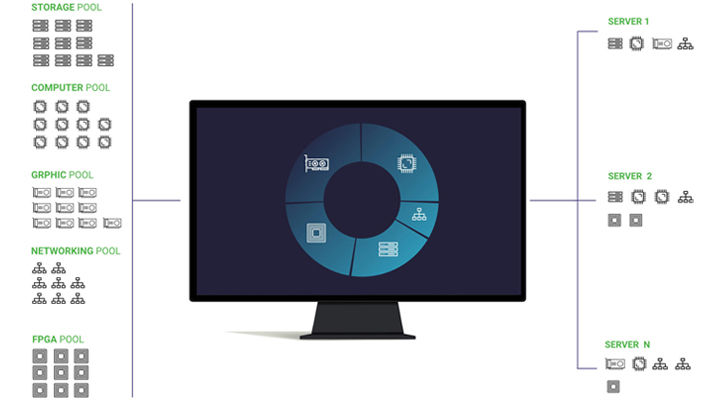 What is composable infrastructure?
Due to the explosion of dynamic workloads and data-intensive applications, composability has emerged as a modern approach to on-premises IT that unlock the full value of IT hardware flexibility, agility, and economics to better support modern workloads. Composable infrastructure is the ability to connect compute, GPU, storage and networking into pools of resources that are provisioned through software APIs and network fabric, then deployed into bare-metal server nodes.
A composable infrastructure framework treats your physical servers, network storage, GPUs, FGPA's and network switches as services that are logically pooled into resources that can be dynamically provisioned as needed. The composable aspect refers to the ability to make those hardware resources available on-the-fly, depending on the needs of different physical, virtual and containerized applications.
As a result, data center administrators don't need to manually-configure hardware to support a specific software application. Similar to public cloud services, when the project or process is completed, the hardware is returned to the resource pool. In addition, operators no longer have to physically configure hardware for optimum performance, to support a specific application workloads requirements.
Hardware-as-a-Service: The Benefits of Public Cloud in Your Data Center
Composability gives data center administrators the ability to design system environments using only the underlying hardware available. This hardware-as-a-service approach is similar to hyperscale public cloud services, whereas hardware resource components are requested and provisioned from shared environments. However, a composable infrastructure sits on-premises in your data center behind the safety of your corporate firewall and without the high on-going cost of a public cloud.
This focus on provisioning hardware into available resources enables the rapid deployment, scale and redeployment of IT resources for flexibility and responsiveness makes management significantly easier to automate processes. Depending on what hardware configurations are required by individual hosted application workload (similar to the VMs in a client server), data center managers can compose an infrastructure environment with available hardware resources for optimum performance and efficiency.
One workload could be a compute-heavy application requiring a lot of CPU power, while another could be memory-heavy. For example, a developer could request a virtual machine with any combination of compute, network and storage capacity, for example, and when the workload is done running, those infrastructure resources are delivered back to the pool for other users to access.
Software APIs: The Right Resources in the Right Place at the Right Time
With composability, data center administrators rearchitect their organization's data center hardware via software management API's, making their physical infrastructure modular. The software management layer API's discover physical hardware on the corporate network that are interconnected over PCI-Express (PCIe) or ethernet, and reconfigure the infrastructure to ensure that the right resources are in the right place at the right time.
The administrator sets policies and service profiles to define the physical infrastructure requirements for the application, and compose a software-defined infrastructure with unified API – similar to a converged or hyperconverged infrastructure – from storage, compute, networking, and graphics processing (GPU) devices. The software API's then dynamically provisions bare metal server environments from these fluid resource pools to compose the infrastructure it needs, such as a virtual machine or container environments.
Choose the Right Composable Infrastructure Solution
The ability to accelerate time-to-market for digital products, or improve service-levels and project delivery times, is a competitive advantage that's necessary for any data-driven organization. A comprehensive software-defined composable infrastructure framework can providers data center admins the ability to configure, manage and scale out physical bare-metal server systems in seconds.
If you'd like to learn more about how to maximize your data center infrastructure by up to 90% while minimizing its footprint, give us a call at (888) 828-7646, email us at sales@www.pogolinux.com or book a time calendar to speak. We've helped organizations of all sizes deploy composable solutions for just about every IT budget.