Data Center Strategy: 5 Reasons to Deploy to a Composable Infrastructure
Posted on January 1, 2021 by rawee.k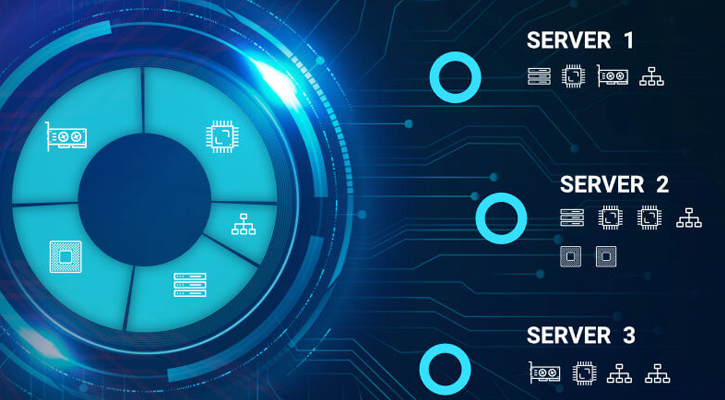 Choosing between software-defined architectures? Here's what data center administrators need to know to compare composable infrastructure versus converged and hyperconverged infrastructure. Questions? Drop us an email at sales@www.pogolinux.com
If you're currently in the process of evaluating composability for your data center, you're probably curious as its benefits when compared with a static architecture. While data centers operators at organizations of all sizes have validated this approach through testing, surprisingly, it's smaller IT departments which have been the greatest to adopt the benefits of a composable infrastructure strategy to experience the benefits of on-premises with the flexibility and agility of the cloud.
What's prompting the need for change?
Considering how unpredictable the acceleration of data services and dynamic nature of on-premises hosted applications has become, data centers operators have found it increasingly difficult to meet today's requirements while planning for future infrastructure needs. IT departments will need to adopt new and innovative approaches to data center management with rapid deployment to keep up with business decisions and innovation.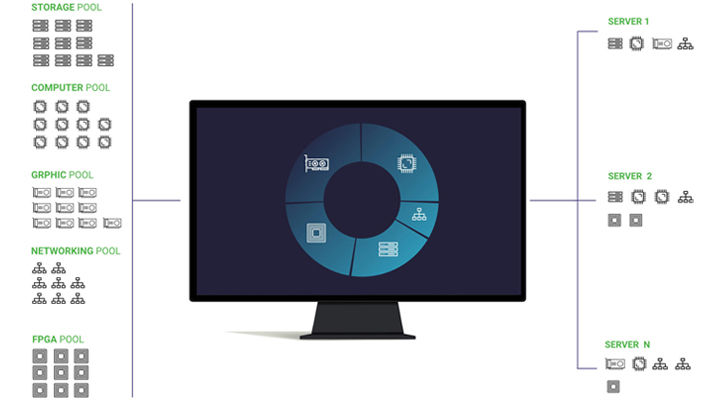 In a composable infrastructure, physical compute, storage and network fabric resources are treated as services, similar to a public cloud. Disaggregated server components and connected devices – including CPU's, NVMe SSD's, GPU's, NIC's and FPGA – are pooled into resources for data center administers to provision bate-metal compute nodes.
Top 5 Benefits of Composable Infrastructure
Data-driven IT organizations of all sizes can benefit from composable infrastructure adoption to unlock the full value of its technology investment. Previously, we covered what is composability, and how it compares with virtualization, as well as converged infrastructure and hyperconvergence. Next, we'll cover how data centers built with software-defined composable infrastructure architecture compare to ones based on converged and hyperconverged infrastructures (HCI).
Could your technology infrastructure benefit from the flexibility and agility of composable infrastructure that leverages current and future IT assets, based on workloads and data mobility? Review the 5 Reasons to Deploy to a Composable Infrastructure to see if it makes sense at your organization.
💪 Optimize Resource Utilization
In a typical enterprise data center, resource utilization is estimated to be in the 12-18% range, while hyperscalers, like Google Cloud, run at 30%. Without further virtualization, more efficient server utilization will depend on adoption of next-generation technologies, including containers and composable platforms.
In order for a business to grow in a sustainable manner, effective resource utilization is a must, and composable platforms will lead the way. An IT organization that migrates from a static infrastructure to a dynamic composable infrastructure, can realize, on average, an increase of 2- to- 4x data center resource utilization.
The benefits of doubling or tripling resource utilization immediately become clear: lower TCO from increased IT efficiency, and greater bottom-line, including waste reduction. By pivoting away from the rising OPEX of manually-configured static architecture frameworks, IT departments can avoid overprovisioning and reduce underutilization of data center hardware.
Composable infrastructure users experience unprecedented operational efficiency previously exclusive to hyperscale public cloud providers. The ability to compose across PCIe, Ethernet, and InfiniBand, gives composability users the ability to dramatically increase the utilization of valuable data center resources.
👟 Rapid Provisioning
In a static architecture data center, when a user wants to run an application that is not tuned to its current ecosystem, IT generally has to send an employee to the data center to un-cable and power down gear to add additional storage or change the networking. At the same time, some solutions can be limited to storage, network, and compute, creating frustration when other resources are needed for a specific software application, but remain static, and cannot be provisioned on-demand.
One of the biggest advantage of composable infrastructure is an autonomous infrastructure that auto-configures. Instead of overprovisioning infrastructure to meet compute needs, pools of resources like storage, network and compute are automatically composed in near real-time. The approach of composability is similar to a public cloud in that hardware resources are requested and provisioned from shared capacity – except a software-defined composable infrastructure sits on-premises in an organization's data center.
Easily scale up (or scale down) in just a few clicks to meet unforeseen infrastructure needs. Data center administrators can automate processes to dynamically configure and provision everything from bare metal servers and network resources, to FPGAs and GPUs to entire racks of equipment in a matter of seconds to adapt to the dynamic applications that require additional resources. Composable solutions assimilate the provisioning of those physical network, storage and compute resources through software and policy-based management to fit the needs of relevant applications—quickly making the vision of software-defined infrastructure a reality.
✅ Open Architecture that Uses Traditional Server Infrastructure
Build a composable environment using a traditional server infrastructure to reap the benefits of the cloud without having to invest in new hardware. Composable infrastructure solutions provide data center operators with the flexibility to leverage the hardware assets they wish, and then orchestrate that equipment to fit business needs. Orchestrate endless bare-metal configurations from disaggregated hardware.
Software APIs manipulate resources across bare metal compute nodes, so an enterprise can run any higher-order applications on any hardware, using any fabric. Composable IT providers users with the ability to use equipment vendors of their choice to orchestrate endless bare-metal configurations from disaggregated server hardware.
🔐 No Vendor & Technology Lock-in
Many big tech OEMs require organizations to adopt their software and hardware, however, there is nothing flexible about locking a business into a single vendor or technology offering. From both a provisioning and fabric standpoint, this dramatically limits the capabilities of the entire static infrastructure architecture.
Most people think composable infrastructure is all about resource utilization and fast provisioning, but that's only a small part of the equation. A true composable infrastructure solution is vendor-agnostic and fabric-agnostic; they do not obligate the user to put any drivers, agents, or software modules on the compute nodes themselves. Instead, users can deploying resources across intelligent fabrics, enabling enterprise organizations to run any software on disaggregated hardware.
Data center operators can dynamically compose services across the appropriate fabric from pooled data accelerator and networking devices. This technology-agnostic approach enables the entire infrastructure, in terms of deployments and devices, to be flexible and adaptive, so IT teams can leverage the equipment they want and then orchestrate that equipment to fit the business needs.
🔮 Future-Proof Your Data Center
IT, database and SAN administrators that manage massive artificial intelligence, machine learning and other increasingly ubiquitous applications and workloads, need to adapt to uneven workloads. This makes it especially challenging to keep-up with today's needs while prepare their infrastructure the needs of tomorrow.
Built with an eye for the future, this frustration is largely eliminated with a truly composable infrastructure. From greenfield deployments of new IT assets, to brownfield deployments that leverage existing to meet continually changing business and technology needs with a modern data center operations built on composability.
Choosing the Right Composable Infrastructure Solution
The ability to accelerate time-to-market for digital products, or improve service-levels and project delivery times, is a competitive advantage that's necessary for any data-driven organization. A comprehensive software-defined composable infrastructure framework can providers data center admins the ability to configure, manage and scale out physical bare-metal server systems in seconds.
If you'd like to learn more about how to maximize your data center infrastructure by up to 90% while minimizing its footprint, give us a call at (888) 828-7646, email us at sales@www.pogolinux.com or book a time calendar to speak. We've helped organizations of all sizes deploy composable solutions for just about every IT budget.