Modernize your data center with Nutanix hyperconverged infrastructure
Embrace the power of cloud with the leading hyperconverged infrastructure solution to move faster, and free yourself from the complexity and cost of legacy IT.
AGILE INFRASTRUCTURE
INTELLIGENT OPERATIONS
FINANCIAL FLEXIBILITY
Data Centers:


Legacy vs. Modern

As the pace of digital transformation accelerates, traditional data center infrastructure can't keep up with the speed of business today. Managing separate silos for compute, storage, virtualization, and networking is too slow and requires too much IT specialization. There's a better way: Nutanix Enterprise Cloud is a modern, software-defined solution that natively integrates all on-premises IT resources. Run any applications, databases, workloads and services with simple and effortless infrastructure management.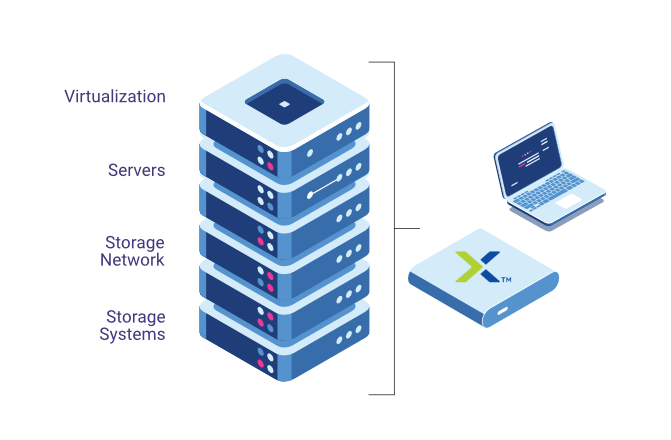 (HCI) Overview


Hyperconverged Infrastructure

Hyperconverged infrastructure (HCI) has been around for more than a decade, simplifying data center operations, and enabling faster scaling with lower cost than traditional infrastructure.

HCI enables organizations to operate software-defined data centers (SDDC) as private clouds, while seamlessly integrating private and public clouds into a unified hybrid cloud. In its short life, HCI has undergone a significant transformation and ready to support the vast majority of modern applications and use cases on a common platform.
Benefit from the Industry Leading Hyperconverged Infrastructure (HCI)
Today, IT organizations and teams need new ways to deliver IT services with the operational efficiency of the public cloud. Nutanix pioneered the HCI market, making it easier than ever before to design, build, and manage a modern data center.
Agile Infrastructure

- Standardize upon infrastructure that can be deployed in minutes, and can scale out as your business grows, without disruption. Get cloud-like benefits with the freedom to choose the right technologies for your business needs.

Intelligent Operations

- Discard multiple management consoles. Get integrated control and visibility across the virtualized infrastructure stack. Leverage advanced machine learning technology to gain insights and optimize virtualization and infrastructure planning and management.

Financial Flexibility

- Convert CapEx to OpEx. No longer should you be forced to buy infrastructure in 3 to 5 year cycles. Plus, an independent study from IDC found a decrease in operating expenses of 60% along with a 5-year ROI of 534% and a 7-month payback.
As the pace of digital transformation accelerates, learn how Pogo Linux hyperconverged infrastructure (HCI) solutions powered by Nutanix can put IT departments in position to better support business objectives.