Modernize your data center with Nutanix hyperconverged infrastructure
Embrace the power of cloud with the leading hyperconverged infrastructure solution to move faster, and free yourself from the complexity and cost of legacy IT.
AGILE INFRASTRUCTURE
INTELLIGENT OPERATIONS
FINANCIAL FLEXIBILITY
Hyperconverged Infrastructure (HCI) Use Cases
As the pioneer of hyperconverged infrastructure, so it's no surprise that businesses around the world run rely on Nutanix HCI solutions to run business-critical applications, databases and production workloads and services.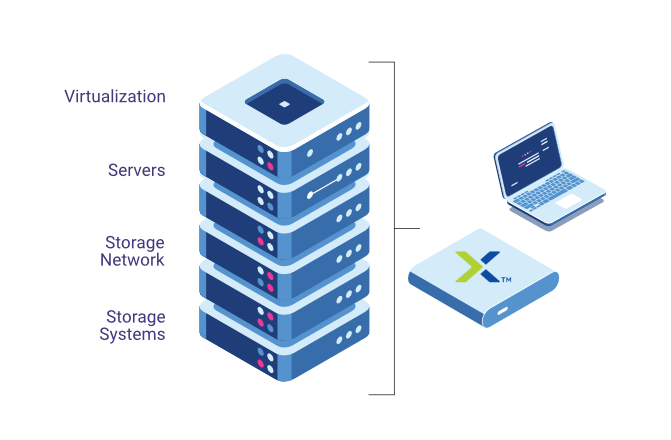 Bring unmatched simplicity to data center operations
Nutanix gives your IT organization the flexibility to pick the right resources for the right workload and adjust seamlessly as your business grows.
Cloud Native Applications
Increase business agility with a full-featured cloud native stack.
Building and running cloud-native applications on-prem is a complex task, involving deep expertise and plenty of automation. Nutanix has rolled all that up into a complete stack to ensure no wasted cycles with a self-healing infrastructure and integrated data protection.
Simplified provisioning, operations, and lifecycle management of Kubernetes, along with persistent storage, workload automation, and monitoring eliminates operational complexity and accelerates development cycles.
Databases
Unlock the value of your data with intelligent database operations.
Deliver high performing databases that grow and scale with your business securely and reliably. Data management built on Nutanix HCI provides the best of both worlds: bringing the flexibility and operational simplicity of DBaaS without the costly restrictions of a single-vendor solution.
Nutanix delivers the flexibility and operational simplicity of DBaaS without the restrictions of single-vendor solutions that are database, cloud provider, or location/deployment-specific.
End User Computing
Quickly and securely connect end users, applications and data.
As End User Computing (EUC) environments become increasingly difficult to manage as resources spread between on-prem and cloud environments, enable a widely-distributed workforce with the tools for end users to stay productive anytime, from anywhere.
As more users demand to work from any device, anywhere, at any time, Nutanix offers VDI and DaaS solutions to address the unique requirements of your users, both on-premises and in the cloud. Scale from hundreds to thousands of users easily without sacrificing user experience.
Business Applications
Run critical business applications in any environment, at any scale
Business-critical applications need a reliable infrastructure to ensure maximum performance and security. Nutanix integrated monitoring, data protection and DR helps reduce costs and downtime while increasing security.
Eliminate the pain of large upfront capital expenditures and regular forklift upgrades with incremental, on-demand scaling. Accelerate time-to-value and reliably run the most demanding, business-critical applications like SAP, Oracle, Microsoft, IBM and more, at any scale.
Build your hybrid cloud with Nutanix