We've Partnered with Liqid to Deliver Composable Infrastructure Solutions for the Data Center
Posted on March 3, 2021 by rawee.k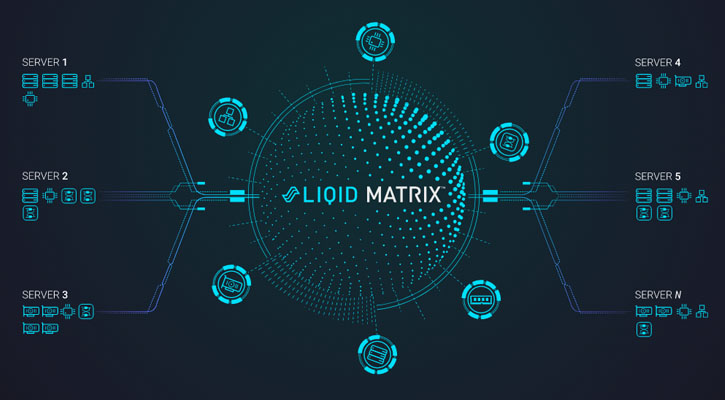 Driven by speed and flexibility demands, the technology needs of today's data center administrator have dramatically evolved. Uneven compute processes and constantly-changing tasks require the agility and flexibility benefits of disaggregated resources, which can only be had from a composable infrastructure environment. To meet these next generation requirements, we've partnered with Liqid, the leading software-defined infrastructure management provider to help our customers unlock the full value of their on-premises data center investment. This partnership will enable to transform any static architecture into a dynamic data center.
Disaggregate Pogo Linux server components and connected devices – including Intel® and AMD CPU's, Western Digital NVMe™ SSD's, Nvidia GPU's, NIC's and FPGA – to maximize hardware resource utilization by up to 90%. Accommodate exact workloads in minutes, or scale up resources to meet real-time needs. Then, recompose the same hardware for other projects, just like a public cloud. Together with your Pogo Linux server infrastructure built on standardized hardware, the Liqid composable infrastructure platform – software APIs, network fabric switches and HBA cards – is the only solution you need to get started. Liqid users can dynamically share and rapidly provision their entire server infrastructure to compose a complex architecture of bare-metal servers on-demand across PCIe, Ethernet, and InfiniBand network fabrics.
Rethink the traditional static architecture data center. Compared to virtualization or hyperconvergence, Liqid offers the same integration and automation capabilities while offering greater levels of abstraction, including:
🔮 Next-Generation Design
As a truly disaggregated infrastructure platform, Liqid enables flexibility and ease of scale out with the leading data center technologies, including WD NVMe-oF™, Intel® Optane™, and NVIDIA® Tesla® GPUs.
⚡ Composable NVMe
Create a composable storage footprint per file system based on NVMe™ over Fabrics. When ultra high-performance needs arise, dynamically provision WD NVMe™ technologies, including SSD's, JBOD and JBOF network-attached storage.
👾 Composable GPU Scale Out
Unlock the versatility of graphics pool with GPU peer-2-peer at scale. Reallocate and share NVIDIA Tesla GPUs for massive and variable workloads, like artificial intelligence and deep learning.
🧠 Composable Intel® Optane™ Memory
Dynamic add DRAM via storage-class memory pools. Compose Intel® Optane™ from Pogo Linux Intel® Xeon® servers to boost application performance and response in bare-metal configurations.
Choosing the Right Composable Infrastructure Solution
Together, Pogo Linux and Liqid will enable your IT organization to maximize your data center infrastructure by up to 90% while minimizing its footprint. If you'd like to learn more about Liqid's composable infrastructure management solution, give us a call at (888) 828-7646, email us at sales@www.pogolinux.com or book a time calendar to speak. We've helped organizations of all sizes deploy composable solutions for just about every IT budget.