Cloudian Object Storage
Native AWS S3-compatible software-defined storage for large capacity data and applications.
LIMITLESS SCALABILITY
CLOUD-COMPATIBLE
S3 COMPLIANT
50+ INTEGRATIONS
Cloudian Technology
Consolidate your unstructured data — both objects and files — to a single, limitlessly scalable storage pool with Cloudian HyperStore. Available as a stand-alone appliance or a complete storage platform, HyperStore enterprise object storage provides unlimited capacity scalability, intuitive management tools, uncompromising data protection, and the industry's most compatible S3 API implementation.
Large-scale object storage adoption first occurred in the cloud, and today all major public clouds are built on the technology. Nearly all the web services you use every day – including Facebook, Netflix, and Google – rely on it. Now, the same technology is available for use in your data center: the same APIs and the same limitless scalability. Cloud integration is built-in with object storage, so public and private clouds can be merged into a single storage pool where the public cloud acts as another storage tier, giving you new options for data management. Here are several ways that on-prem object storage and the public cloud work together to solve problems.
Cloudian HyperStore Features
Distributed Data
Quickly deploy storage nodes across multiple sites.
QoS
Critical feature for SaaS applications, not found on Scality, Cleversafe, or SwiftStack.
Chargeback, accounting, multitenancy
Important SaaS features are standard on Cloudian.
Simple scaling model
All nodes have identical functionality. Start with just three and grow.
Auto-tiering
Policy-based data migration from on-prem to public cloud.
Fast streaming performance
5GB/sec writes, 2.5GB/sec reads with 16 nodes.
Data compression and encryption
Integrated features for enhanced security
Self-healing
Granular control of data protection features. Erasure coding + replication options.prem to public cloudProactive error detection and repair.
Chargeback, accounting, multitenancy
Important SaaS features are standard on Cloudian.
S3-Compatible Storage Services
With object storage, it's easy to launch S3-compatible storage services. Many managed service providers (MSPs) and enterprises today offer S3-compatible services in either public or private cloud service models. Cloudian incorporates features that simplify this with multi-tenancy, quality of service controls, billing, and access controls.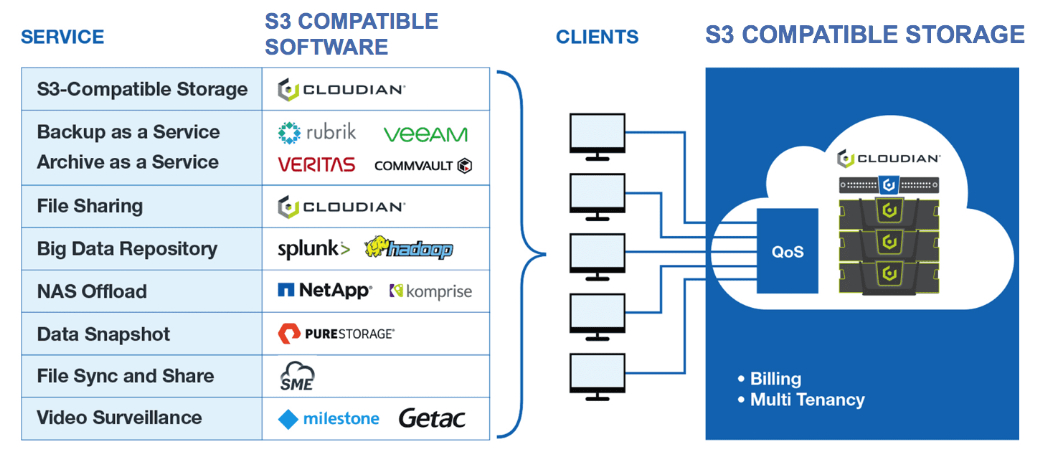 Hybrid Cloud
for Disaster Recovery
A hybrid cloud lets you manage both public and private storage pools as one, with data management tools that manage policy-based tiering or replication among environments. Migrate or replicate data based on file type, frequency of access, file size, or other parameters of your choice.
Hybrid cloud use cases vary. DR is easy to manage and cost-effective with policy-based replication to the cloud. For capacity expansion, data tiering can effectively provide unlimited capacity. Policies maintain the most commonly used data on-prem, while infrequently used data is moved to the cloud. Two other popular user cases – data analysis in the cloud and content distribution – allow IT managers to capitalize on the compute capability and geographic reach of the cloud, while also letting on-prem users access data locally for faster performance.
Multi-Cloud:
Multiple Cloud Vendors in One Storage Pool
Multi-cloud lets you merge clouds from multiple vendors in a single management environment. Combine storage from Amazon, Google, and Microsoft, plus private cloud storage, to a single pool with one set of management APIs.
With multi-cloud, your organization can use different clouds for different reasons, letting you take advantage of various features or data center locations. It also allows you to use cloud resources selectivity for cloudbursting or other events that call for a temporary use of more storage resources than usual.
Systems can be customized perfectly to suit the needs of you and your valued customers. For more information about how a Cloudian Object Storage solution can exceed your expectations.