POGO COMPOSABLE INFRASTRUCTURE
Transform a static architecture into a dynamic data center with software-defined infrastructure management.
Composable Infrastructure's Open Architecture
With Pogo Linux composable infrastructure solutions, the management console and network fabric switch are software and hardware vendor agnostic to enable true composability with disaggregation. This open architecture approach allows composability users to orchestrate endless configuration options of bare-metal compute nodes from disaggregated CPU's, NVMe SSD's, GPU's, NIC's and FPGA hardware.
The software APIs do not obligate the need for additional drivers, agents, or software modules. Since all software live on the fabric, the application layer can easily scale-up based on exact physical-resources required by each workload.
Resources Pools Enable Bare-Metal Server Orchestration
Together with the disaggregated hardware resources on a corporate network – Including Western Digital, Intel, AMD and other data center technologies – composable infrastructure users can provision bare-metal environments from resource pools, including: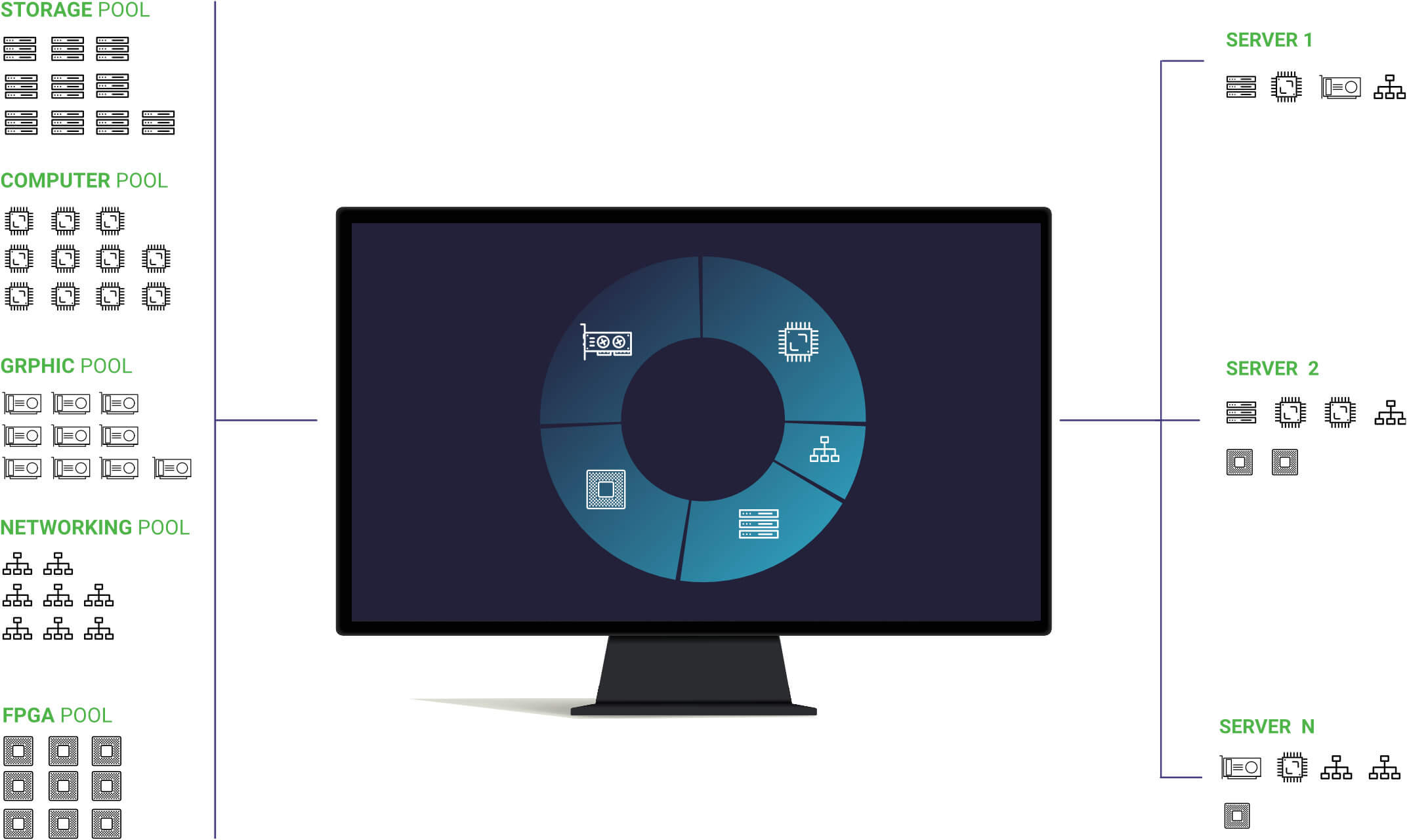 Storage & Memory Pool: NVMe SSDs, JDOB-JBOF
When new workloads and hosted application needs arise, composability enables IT to dynamically create, scale and redeploy bare-metal servers to meet exact storage and memory requirements on-demand via software. Dynamically provision storage resources – including WD NVMe™ SSD's, WD JBOD & JBOF network-attached storage, Intel® Optane™ storage-class memory, or on-premises object storage.
Graphics Pool: NVIDIA Tesla GPU's
Unlock the versatility of GPU graphics for modern workloads, like artificial intelligence and deep learning are massive and variable. Provision previously unimaginable video graphics configurations – such as adding 16 NVIDIA Tesla T4 GPU's to a single server – on-demand to meet any workload requirement.
Computer Pool: Intel Xeon & AMD EPYC CPU's
When combined with the compute density of Intel rackmount servers or AMD rackmount servers, data center admins have the flexibility and agility necessary to tackle a variety of HPC workloads. Leverage previous generation Intel Xeon or AMD EPYC CPUs, or 2nd generation Intel Xeon Cascade Lake SP and AMD EPYC server processors.
Network Pool: PCIe & FPGA Devices
Will the number of PCI-Express (PCIe) or Ethernet devices needed for a workload process fit in a physical server? With composable bare-metal servers they will. Satisfy user or application networking requirements by scaling up PCIe Gen 4 devices in real-time without ever touching a physical server.
Get in touch with us to learn more about how Pogo Linux composable infrastructure solutions can maximize your data center resources while minimizing its footprint.