OSNEXUS QuantaStor Hyperscale Storage Platform
From terabyte to petabyte, we can make your high-performance storage infrastructure easy to deploy and manage with OSNEXUS QuantaStor.
LIMITLESS SCALABILITY
CLOUD-COMPATIBLE
S3 COMPLIANT
50+ INTEGRATIONS
File Storage Simplified
Multiple storage appliances can be aggregated into a single namespace. Erasure coding technology enhances performance and simplifies the scaling capacity of scale-out NAS (Network Attached Storage) configurations. Shares can be grouped into global namespaces using SMB/NFS redirection for scale-up NAS configurations. At the file system level, QuantaStor scale-out clusters are implicitly highly-available. Continuous availability is extended to FC hosts via floating virtual IP addresses.
Key Features
With QuantaStor grid management technology, it's easy to start out with a low capacity and grow it all the way to hyperscale. The appliances in the grid may include multiple clusters of independent scale-out NAS. CephFS allows for a POSIX compliant filesystem within scale-out NAS configurations that span multiple QuantaStor servers.
High Availability for NFS/SMB
Virtual IP addresses can be associated with any scale-out NAS volume. This enables load balancing of traffic by routing specific clients to appropriate virtual IPs. This offers distinct advantages over traditional protocols such as SMB and NFS, which are point-to-point between specific NAS appliance IP addresses and each client. In the event of a hardware outage, virtual IP addresses ensure that clients have uninterrupted access to the scale-out NAS storage. The virtual IP address automatically floats to another member of the NAS cluster.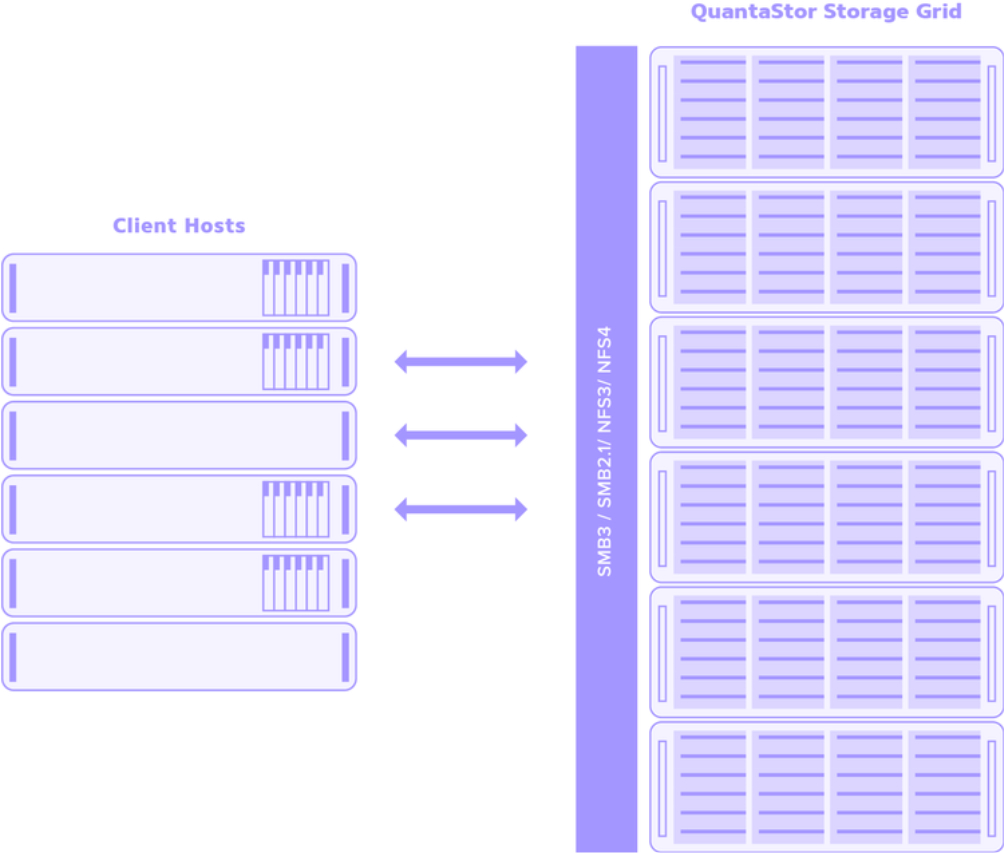 Systems can be customized perfectly to suit the needs of you and your valued customers. Please contact our sales team for more information about how a QuantaStor solution can exceed your expectations.