OSNEXUS QuantaStor Hyperscale Storage Platform
From terabyte to petabyte, we can make your high-performance storage infrastructure easy to deploy and manage with OSNEXUS QuantaStor.
LIMITLESS SCALABILITY
CLOUD-COMPATIBLE
S3 COMPLIANT
50+ INTEGRATIONS
Scale-Out and Scale-Up

for Virtualization
QuantaStor appliances deliver the performance and data availability demanded by virtualization environments. The highly-available block storage on these appliances delivers exceptional performance with minimal downtime. QuantaStor is ideal for mission-critical desktop and server virtualization, thanks to its scale-out feature set and consistent data availability.
QuantaStore scale-up cluster architectures are perfect for workloads requiring exceptional IOPS performance, such as databases and OLTP applications running within a virtualized environment. QuantaStor uses integrated ZFS and HA cluster and failover management. This ensures that applications always have unrestricted access to their storage, even during emergencies such as network hardware outages. File and block storage are reliably delivered over all major protocols, such as iSCSI, CIFS, NFS, and Fibre Channel. Applications are free to use both structured and unstructured data.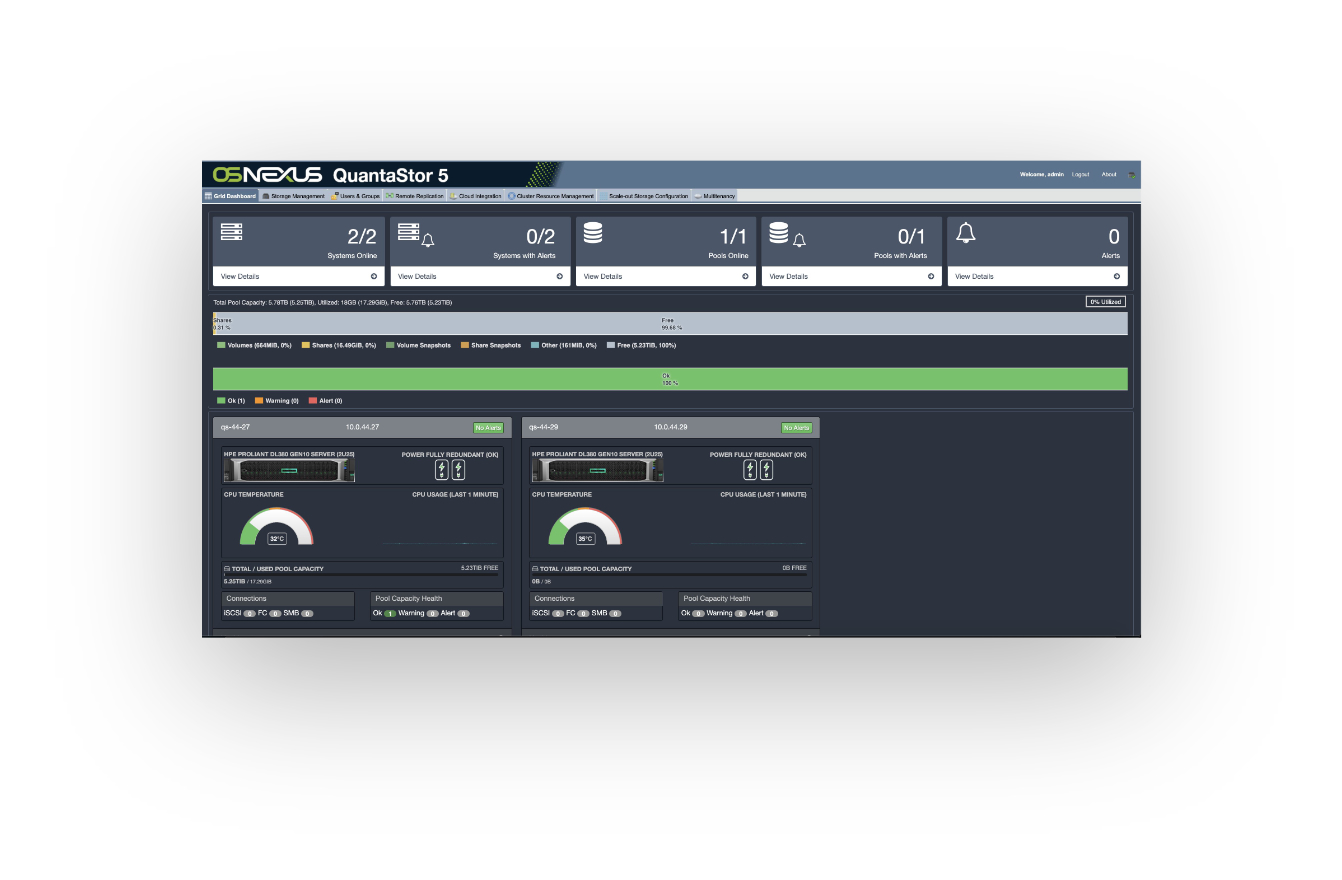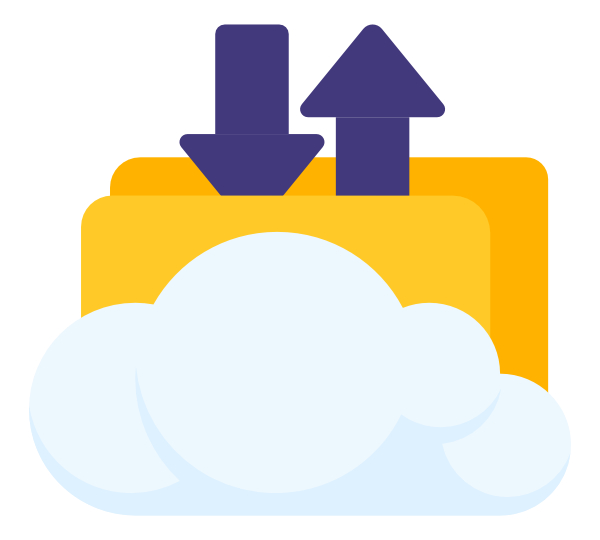 Simplifying

Backup & Archive

QuantaStor greatly simplifies backup and recovery operations. Critical data is always protected, even if there is a major hardware or software failure.

When applications necessitate a single massive namespace, QuantaStor is deployable as a grid of appliances, making over 100PB of storage available for each storage grid. If applications require snapshots, data compression, and remote replication, scale-up clusters are buildable on ZFS-based storage pools. QuantaStor includes grid management technology that combines appliances, thereby simplifying management of storage servers that are deployed in data centers spanning the globe. When performance is the top priority, storage configurations with SSDs are recommended. If storage quantity takes precedence over performance, HDDs are favored for their high capacity.
Disaster Recovery
QuantaStor is an incredibly efficient business continuity solution for remote backup and disaster recovery, regardless of location. Selected storage volumes and shares are recoverable locally, across globally linked datacenters, or in the cloud.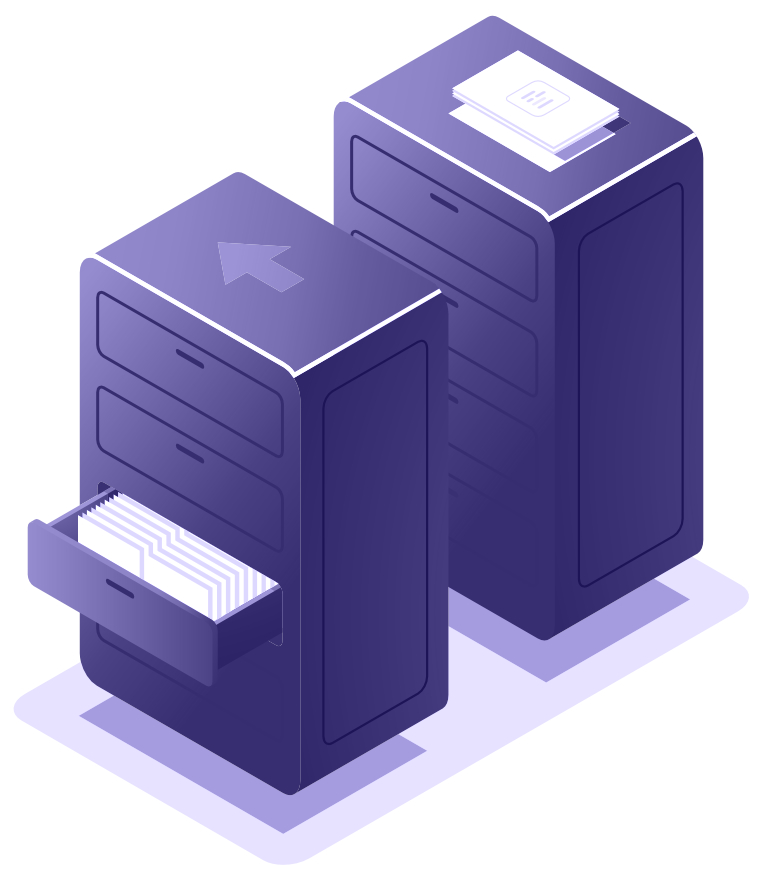 Remote Replication
For simplified management, QuantaStor Storage Grid technology seamlessly ties QuantaStor servers together, regardless of geographical location.
Minimal Impact on Network Traffic
QuantaStor's replication system is extremely resource efficient. Only deltas are replicated, and all transfers are encrypted and compressed.
Multi-directional Replication
Any appliance can be a disaster recovery site, once the storage grid is established. A single appliance can replicate to multiple sites.
Multi-site Management
Administrators can manage local and remote appliances from a single pane of glass. The web-based interface allows for management across geographical locations.
File Protection with Snapshots
Snapshots make it easy to recover modified, deleted, or corrupted files. Snapshots create copies of selected volumes from a primary to a secondary appliance, while maintaining a detailed log of all snapshots.
Big Data
Gracefully scalable to 100PB, QuantaStor is flexible enough to excel at a wide variety of workloads. Data analytics, real time data processing, content delivery, "cold data" storage, and media archiving are but a few common big data use cases.
In order to accommodate diverse data velocity and variety, QuantaStor's storage pool architecture supports two underlying pool types. Scale-up clusters use ZFS for its versatility and performance in IOPS intensive workloads. Scale-out clusters take advantage of Ceph technology, which is ideal for S3 object storage applications.
Systems can be customized perfectly to suit the needs of you and your valued customers. Please contact our sales team for more information about how a QuantaStor solution can exceed your expectations.