Top 5 Nutanix Hyperconverged Infrastructure Questions for Technical Decision-Makers
Posted on December 12, 2022 by rawee.k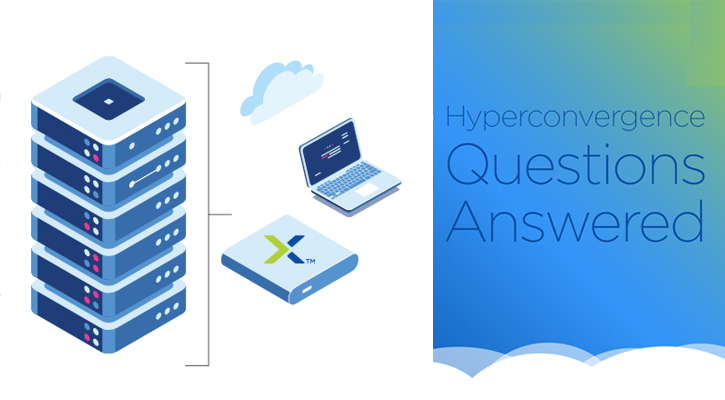 As the pace of digital transformation accelerates, IT infrastructure grows more complex, as data center administrators look for solutions to simplify and keep pace. As software becomes increasingly fundamental to every aspect of our lives, IT teams find themselves increasingly central to business outcomes but are stuck trying to solve new problems with technology designed for a different era.
This IT sprawl stemming from uncontrolled growth the past decade has led many technology leaders and industry observers to evaluate hyperconverged infrastructure (HCI), an approach to IT architecture that combines storage, computing and networking into a single system.
Hyperconverged infrastructure (HCI) has been around for more than a decade, simplifying datacenter operations, and enabling faster scaling with lower cost than traditional infrastructure. According to IDC, annual spending on converged systems exceeds $13 billion, with a market that is expanding more quickly than the data center infrastructure market as a whole. Gartner recently estimated that as much as 20 percent of business-critical applications deployed on three-tier IT infrastructure will transition to hyperconvergence.
Nutanix HCI Business Benefits for Data Centers
Today, over 12,000 businesses have selected Nutanix HCI to modernize their data center infrastructure to bring new capabilities and innovations. For businesses looking to reduce complexity and cost, while also improving performance and reliability, HCI has become an ideal solution for organizations that need to rapidly deploy, manage and administer dynamic compute and storage environments that ensure continued business success. Now CTO and CIO's at data-driven organization no longer have to settle for complexity, poor performance, vendor lock-in, and unnecessary licensing costs from their IT infrastructure.
Evaluating a Nutanix HCI Solution for Technical Decision-Makers
If your organization is contemplating big data center architecture decisions in 2023, the simplified deployment, management and administration are the primary benefits of Nutanix HCI – a simplicity that brings a number of cost-saving benefits. To get started, this article outlines the Top 5 Nutanix HCI Questions for Technical Decision-Makers to Ask before deploying a hyperconverged infrastruction solution. Read further to learn about:
Which use-cases and workloads work best with hyperconverged infrastructure
Explanation of how HCI makes organizations more productive
What size businesses are the best fit for hyperconvergence
Evaluating TCO or ROI when adopting HCI solutions
How difficult will for the IT organization to master a hyperconverged infrastucture 
🖱️ 1. What databases, applications and workloads do companies run on hyperconverged infrastructure?
Here's some prime examples of what applications run on hyperconverged infrastructure.
In the past, HCI started with use cases like VDI and ROBO (remote or branch office). That dynamic has rapidly changed as more and more users of HCI solutions have made their systems available with more and more production and datacenter workloads, even as they prepare their resources for the future.
Databases: Oracle, SAP HANA, Microsoft SQL Server, MySQL, PostgreSQL, IBM DB2, and many others
Business Critical Applications: Virtualized server applications like Oracle E-Business Suite, SAP Business Suite, Microsoft Dynamics, Epic, Meditech and more, supported on all major hypervisors
Big Data: Splunk, MongoDB, Elastic, Hadoop and more
Cloud-native Applications: Build and deploy cloud native applications with Kubernetes, Docker, Puppet, Chef
Virtual Desktop Infrastructure (VDI): Citrix, VMware Horizon
Remote Office & Branch Office (ROBO): Print and file servers, office services, custom applications
🖱️ 2. How does HCI make teams more productive?
Hyperconvergence just works!
HCI customers seem to universally agree that they no longer spend as much of their nights and weekends managing their data center infrastructure, i.e. scheduling maintenance or doing upgrades or implementations. By shifting focus off of infrastructure, teams can focus on value-add activities for the business— be it spending time on developing DevOps practices, designing automated solutions, or pursuing hot initiatives like IoT.
Hyperconverged infrastructure's self-healing, "always on, always up" infrastructure with the five nines of availability. Upgrades are one-click and can be done anytime and literally almost anywhere—we've even had customers initiate an upgrade from an airplane without batting an eye. Resiliency is key here too; make sure you can take snapshots so that even if a user accidentally deletes something or needs to roll back an application upgrade, you can easily recover VMs and data.
The 2018 State of the Enterprise Datacenter Report showed a correlation between hours worked in companies utilizing hyperconvergence as opposed to those that don't: 78% of respondents running HCI worked up to 40 hours per week, and just 24% of those with HCI answered that they work over 40 hours per week. For companies without hyperconverged infrastructure that number is 36%—almost 50% greater than adopters.
🖱️ 3. Is HCI a good fit for large and small environments?
HCI is optimal for environments of all sizes.
For smaller companies, HCI eliminates the silos of separate management and troubleshooting for servers, storage, networking, and virtualization. No separate support costs, support teams, or licensing costs.
For larger environments, hyperconverged infrastructure can be adopted at a flexible pace, matching the needs of the business. Organizations going through large refresh cycles often use the opportunity to modernize their environments with HCI instead of the usual incremental improvements.
Alternatively, some larger organizations choose to start their HCI journey with a specific use case, which can be integrated seamlessly into their existing management framework. Over time, as the original use case grows, as new use cases come up, and as old hardware ages out, the environment can be expanded 1 or 100 nodes at a time, often becoming the standard as business units and administrators gain confidence in the new architecture.
🖱️ 4. Should TCO or ROI be considered when adopting a hyperconverged infrastructure solution?
A TCO analysis is best for situations where you are considering migrating from an existing virtualized infrastructure either to an HCI solution, or to a new (or refreshed) 3-tier architecture vs. HCI solution. Use an ROI analysis when comparing remaining with a status quo environment (whether physical or virtual) vs. making the investment to migrate to HCI.
In terms of cost, an HCI configuration is not always the least expensive option when comparing against 3-tier infrastructure. But when incorporating projected upgrade costs over a 5-year period along with variables such as rack space, power, cooling, administrative costs, fiber channel cabling, etc., HCI will generally blow away the competition.
🖱️ 5. My whole team are experts with our legacy infrastructure. How difficult will it be for us to master a hyperconverged infrastructure?
Hyperconverged infrastructure was developed to simplify operations by decreasing the number of layers that need to be separately administered and by automating processes that traditionally require deep expertise, like deployments, upgrades, and LUN design. This means your team will have fewer moving pieces to manage, enabling them to attack the backlog and take on new projects instead of putting out fires. HCI solutions integrate seamlessly with your existing management infrastructure, easing the transition.
Pogo Linux Nutanix HCI Solutions
Whether Nutanix hyperconverged infrastructure is new to you, or you believe you're an expert, there still may be some technical benefits to HCI you may not be taking advantage of. We can help educate your team on the potential technical impact HCI can have on strategic business and IT initiatives.
Interested in trying it out? Visit our Hyperconverged Infrastructure Solution Page to learn how to take a Nutanix test-drive through any browser. In just a few clicks, access a test cluster remotely to spin-up a cluster in the cloud within minutes.
If you'd like to learn more about how Pogo Linux HCI solutions enable high-performant and secure data center architectures with simplified management, give us a call at (888) 828-7646, email us at sales@www.pogolinux.com or book a time calendar to speak. We've helped organizations of all sizes deploy scalable, high-performance object storage solutions for just about every IT budget.