Global Namespaces, Simplified
Posted on March 3, 2017 by Rachel B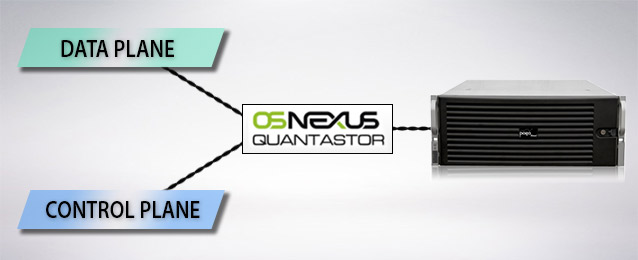 As storage environments grow and appliances are added to expand capacity, it becomes increasingly difficult for users to manage their data across disparate sets of storage appliances. This, in turn, slows productivity. One traditional approach to solving this data management problem has been to use scale-out NAS solutions that provide visibility to all NAS shares from all appliances that are part of a given scale out volume.
Scale-Out NAS Limitations
Scale-out NAS solutions, however, introduce a number of problems including spindle-contention, large failure domains, poor performance for small block IO, higher latency and higher up-front costs due to the need for the additional high-speed 40GbE+ backend network to interconnect appliances.
So how does a storage administrator keep the performance benefits of a highly-available scale-up NAS system while also getting the ease of management that comes with the global-namespace or single namespace capability of a scale-out NAS system? One answer is to combine control-plane and data-plane storage management capabilities across a single global namespace. This namespace groups shares together into a globally accessible folder across selected appliance groups.
QuantaStor by OSNexus: Combining the Data- and Control-Plane for Easier Management
One Software Defined Storage solution that can provide this feature set is QuantaStor by OSNexus. QuantaStor combines the best of these two technologies through innovations in both the SDS control-plane and data-plane (see figure below). QuantaStor's control-plane solves the ease-of-management issues through its unique grid management technology enabling up to 64 appliances to link together across sites and datacenters providing homogeneous management of all appliances as a single grid. QuantaStor's data-plane supports global namespaces, also known as Network Share Namespaces, which implement Microsoft DFS and NFSv4 referral technologies to redirect SMB/CIFS clients to network share locations and can work together with Highly-Available (HA) storage pools. This lets users group together network shares across any number of appliances in a QuantaStor grid and present them from all appliance nodes as if they were scale-out NAS.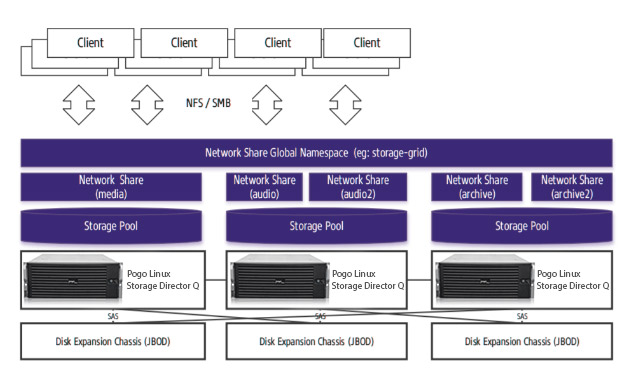 Common use cases for global namespaces include media production workflows that lets IT managers distribute files in a way that achieves the best performance and capacity utilization per system. Artists, editors and producers are able to access their digital assets via a single, logical namespace, even across geographies. The global namespace reduces human error, improves productivity and streamlines media and entertainment workflows enabling NTV networks, studios and VFX companies to accomplish more at a lower cost while eliminating complexity.
Pogo Linux Storage Director
The Pogo Linux Storage Director Q Series of systems, provide the perfect overall solution to achieving a successful global namespace deployment. By combining an optimal hardware configuration with the QuantaStor SDS, Pogo has a complete solution that solves the traditional issues of scale-out storage by providing both high performance and ease of management. This is all backed by Pogo's award winning support and warranty coverage.
Want more information about how the Storage Director Q  series and QuantaStor can solve your data storage needs? Give our sales engineers a shout at 1-888-828-7646 or drop us an email at sales@www.pogolinux.com.

---
To learn about how Pogo can help you tackle the technological challenges your organization is facing, please call us at 888-828-POGO, or email sales@www.pogolinux.com.