Lunduke's Light Show
Posted on May 5, 2019 by Rachel B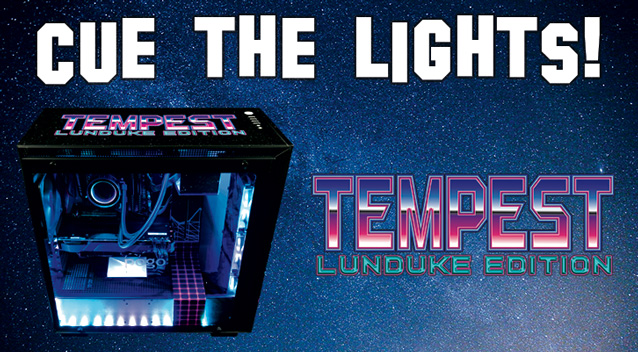 You may recall a couple of months ago, to help commemorate our 20th anniversary, we sent Bryan Lunduke a fully customized powerhouse workstation. We then guested on The Lunduke Show to talk to Bryan about it, running through all the specs. During that video, we agreed that we'd need to create a whole separate video just to discuss the lighting rig we installed in his new system.
Well, this morning our very own Chris Stevenson sat down with Bryan to run through all the ins & outs of the highly customizable RGB lighting system. Chris and Bryan demonstrated the capabilities of this unique and fun lighting setup, using open-source software to unlock the full potential of the system. Check out the video below!
The Specs
With such an overwhelming visual presence, this system needed to have the specs to back it up.  In the interest of providing Bryan a powerhouse video editing machine, our engineering focus was to combine a modern CPU with a very fast boot drive, and a beefy GPU.
This custom Pogo Tempest T6X Workstation features:
Intel Core i9 9900k CPU
Intel Z390 chipset
32GB DDR4 2666MHz Memory
NVIDIA Geforce RTX 2070 GPU
Boot SSD: 500 GB Samsung 970 EVO NVMe M.2
Storage HDD: 8 TB Western Digital Ultrastar 7200 RPM
Ultra-quiet liquid cooling unit
Fully programmable custom RGB lighting
One-of-a-kind vinyl wrap
Enthusiastically Enterprise-Grade
Aside from the over-the-top visual presentation, this custom Tempest Workstation is very representative of Pogo's desktop ethos: enterprise grade hardware built to run open source with enthusiast-level performance. 
Stay Tuned
Be sure to subscribe to Bryan Lunduke's YouTube channel, follow him on LBRY, and support him on Patreon. You'll surely be seeing more of Bryan (and his cool new workstation) in the months and years to come. Stay tuned!

---
To learn about how Pogo can help you tackle the technological challenges your organization is facing, please call us at 888-828-POGO, or email sales@www.pogolinux.com.