Object Storage Solutions: 6 Ways to Save 70% vs. Traditional SAN/NAS
Posted on July 7, 2020 by rawee.k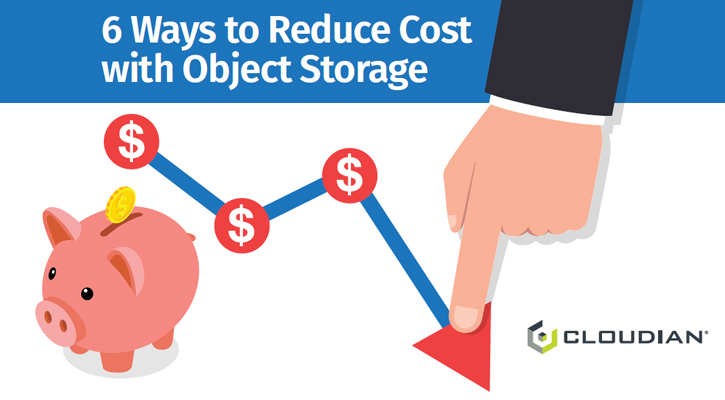 As data volumes start to outpace operating budgets and the headcount needed to manage them. Instead of over-provisioning storage due to lack of visibility into how their organization uses data, storage managers are turning to new storage technologies for cost benefits without sacrificing features.
Today's forward-thinking IT departments are turning to object storage as a full-featured, low-cost software defined storage technology to extend primary storage. Object storage deployed on low-cost commodity hardware offers limitless scalability, affordable capacity, and cloud flexibility. This reduces an organization's total cost of ownership (TCO) – administration, performance tuning and data protection – to manage its storage infrastructures.
Discover all the ways object storage can save vs. conventional storage for that data by transparently migrating data to an on-premises object storage instance.
70% Less Cost Than Traditional SAN/NAS
Every organization is under pressure to meet the exponential demand for capacity storage. However, surveys show that 60% or more of data on Tier 1 storage is either dormant or rarely used. Using industry standard hardware and an integrated data protection platform, object storage can dramatically reduce an IT department's Tier 1 storage costs.
With object storage, organizations can achieve significant savings by moving inactive data to a lower-cost secondary storage tier with zero impact on user data access. While the concept of storage tiering is well known, it has not been widely-adopted in the past due to various limitations. Object storage overcomes those limitations and makes tiering an attractive option to reclaim capacity on Tier 1 storage systems and reduce backup costs and time requirements — often resulting in overall file storage cost savings of 50%.
TCO Report: Learn how object storage can dramatically reduce Tier 1 storage costs by comparing the total cost of ownership of traditional NAS to the TCO of traditional NAS augmented by storage tiering with Cloudian object storage.
Immediate Return on Investment
Compared to a legacy storage platform that's up for support renewal, an entire object storage solution based on standardized hardware with 3 years of support can cost less than a NetApp or EMC support renewal. Object storage redefines CAPEX and OPEX storage economics by providing limitless capacity without additional backup licenses.
TCO Calculator: Calculate 3-year savings vs traditional NAS Storage by finding out how much your organization can save. Compare costs and benefits of major factors such as: capacity performance, current costs, cost for backup licenses and cost for backup target.
Save up to 60% on your Splunk Infrastructure
Splunk together with object storage for backup increase scalability to exabytes while reducing storage cost from administer fewer indexes required on expensive NVMe, Flash arrays or other high-performance disks. Object storage that can provide an exabyte-scalable storage pool that is separate from your Splunk SmartStore indexers. Using object storage for warm buckets vs. cold buckets on a NAS/SAN or JBOD's let's you reduce warm bucket storage costs by performing fewer indexers.
TCO Report: Compare the 60% TCO savings in Splunk environments with on-prem object storage:
Splunk environments using SmartStore with Cloudian object storage provides over 60% savings over traditional Splunk environments in 3-year TCO model
Indexer infrastructure is reduced by almost 2/3 resulting in >60% savings of indexer cost
Storage infrastructure cost for retention data is reduced by >80% with Splunk SmartStore with HyperStore
Cloudian provides 100X the scalability of SAN/NAS at 70% less cost
The storage economics of a traditional Splunk environment using local storage plus SAN/NAS to the newer Splunk SmartStore environment using Cloudian® HyperStore®—Cloudian's on-premises S3-compatible storage solution.
65% Savings vs. Public Cloud
Until recently, public cloud providers were thought to be the ultimate answer for data storage: low cost — but only if you didn't need to actively access data. On-premises object storage has emerged as a cost-effective capacity tier vs. public clouds for many use cases like healthcare, media & entertainment, electronic design automation, insurance, education, oil & gas, analytics, and life sciences. Storage managers that adopt a hybrid cloud strategy can realize an economic advantage at less than half the cost per month on AWS, with no access costs and no transfer costs.
TCO Report: Learn how you can save up to 65% of your storage costs for backup and archive, media workflows, and other capacity-intensive applications.
47% Less TCO than Tape Storage
The limitations of tape storage go beyond its lack of scalability. With advances in artificial intelligence and machine learning, the opportunity costs of data that isn't searchable has become a liability that will only continue to grow. In addition to no longer dealing with tape handling costs or media updates, object storage allows data users to leverage real-time data to access or monetize existing data, when compared to LTO tape for media archives and backup.
TCO Report: Learn the Economic Advantages of Object Storage vs. LTO for Media Active Archives and Backup. In addition to a detailed total cost of ownership (TCO) analysis covering both capital and operational expenses.
60% of File Data is Rarely Used
In a recent report, IDC found that of the 13ZB of installed storage expected to be in place in 2025, only 7.5ZB will actually store data. At the same time, IDC notes that although the amount of storage capacity will grow by 300% in the next seven years, IT budgets are staying flat. With flat budgets and amassing data growth, businesses can no longer treat all data the same. As a result, businesses will over-provisioning storage by nearly 50% because due to lack data visibility into how data is growing and being used.
Object storage achieves significant savings by identifying hot and cold data and storing them on different classes of storage. This allows storage managers to move inactive content to a secondary storage tier.
Analyst Report: Get smart about data growth with intelligent data management. Learn about a modern, efficient, and scalable solution for cold and infrequently accessed data that gives you the ability to:
Identify hot and cold data
Offload data without intrusive agents
Limitlessly scale capacity
Geographically distribute replication
Choosing the Right Object Storage Solution
If learning more about how object storage technologies can reduce cost by up to 70% when compared with traditional SAN/NAS solutions or AWS public clouds, schedule a time to speak or give us a call at (888) 828-7646. We've helped businesses of all sizes deploy S3-compatible object storage solutions to simply their storage infrastructure.