OSNEXUS Certified AMD EPYC Storage Platform
Posted on August 8, 2017 by Rachel B

OSNEXUS has just certified the Storage Director Q2E for their QuantaStor SDS platform, making this the first AMD™ EPYC™ system to receive the designation. The recently unveiled AMD EPYC processor has shown great promise as a storage platform and this promise has just been realized with the Pogo Linux Storage Director Q2E software defined storage (SDS) node.
"The new AMD EPYC Processors are extremely innovative in that they offer a single-processor solution that has a high core count, high memory bandwidth, and I/O optimized for today's workloads. We are pleased that the Pogo Storage Director Q2E, powered by QuantaStor SDS, has passed our certification tests and is exceeding our performance expectations."  
-Steve Umbehocker, CEO of OSNEXUS
Next Generation Technology
The newly certified Storage Director Q2E enables companies to take advantage of next-generation technology in the processor, server, and software-defined storage fields simultaneously. This combination continues to drive storage performance up, while at the same time reducing storage costs for even the most demanding environments.
Enterprise-Class SDS with OSNEXUS
OSNEXUS QuantaStor SDS delivers a complete array of enterprise features and capabilities for file, block, and object storage. QuantaStor SDS addresses a broad set of storage use cases including server virtualization, big data, cloud computing, and high performance applications.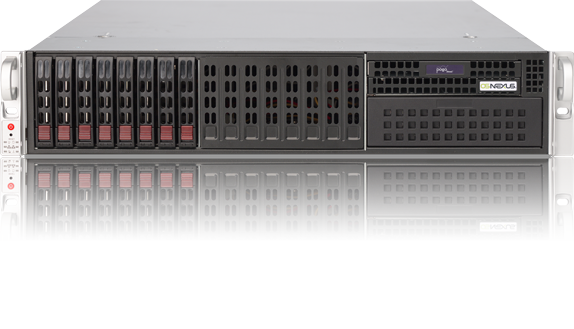 Full IO Connectivity with a Single CPU
Compared to previous generations, the Storage Director Q2E provides a huge step forward in computing, IO performance and bandwidth. Not only does the new AMD EPYC platform greatly increase performance, the platform also reduces costs by allowing the full use of all IO connectivity with only a single processor.
"AMD EPYC is advancing high-performance computing through its highly scalable 32-core system-on-a-chip design. I am impressed with the initial performance across workloads we have seen on EPYC with the combined Storage Director Q2E and QuantaStor SDS solution."  -Erik Logan, CEO of Pogo Linux
Built for Software Defined Storage
In most storage deployments, a powerful appliance or head node makes all the difference. However, most storage systems are not CPU bound. The critical attributes are number of I/O lanes, bandwidth, and available memory. Storage systems require maximum connectivity (lots of PCIe lanes) and high memory counts (lots of caching). Processing power is often a secondary concern. AMD EPYC processors allow a single processor storage system to maximize performance while saving upfront costs and decreasing power consumption. Talk to an engineer at Pogo Linux and find out how a Storage Director Q2E can exceed your expectations.